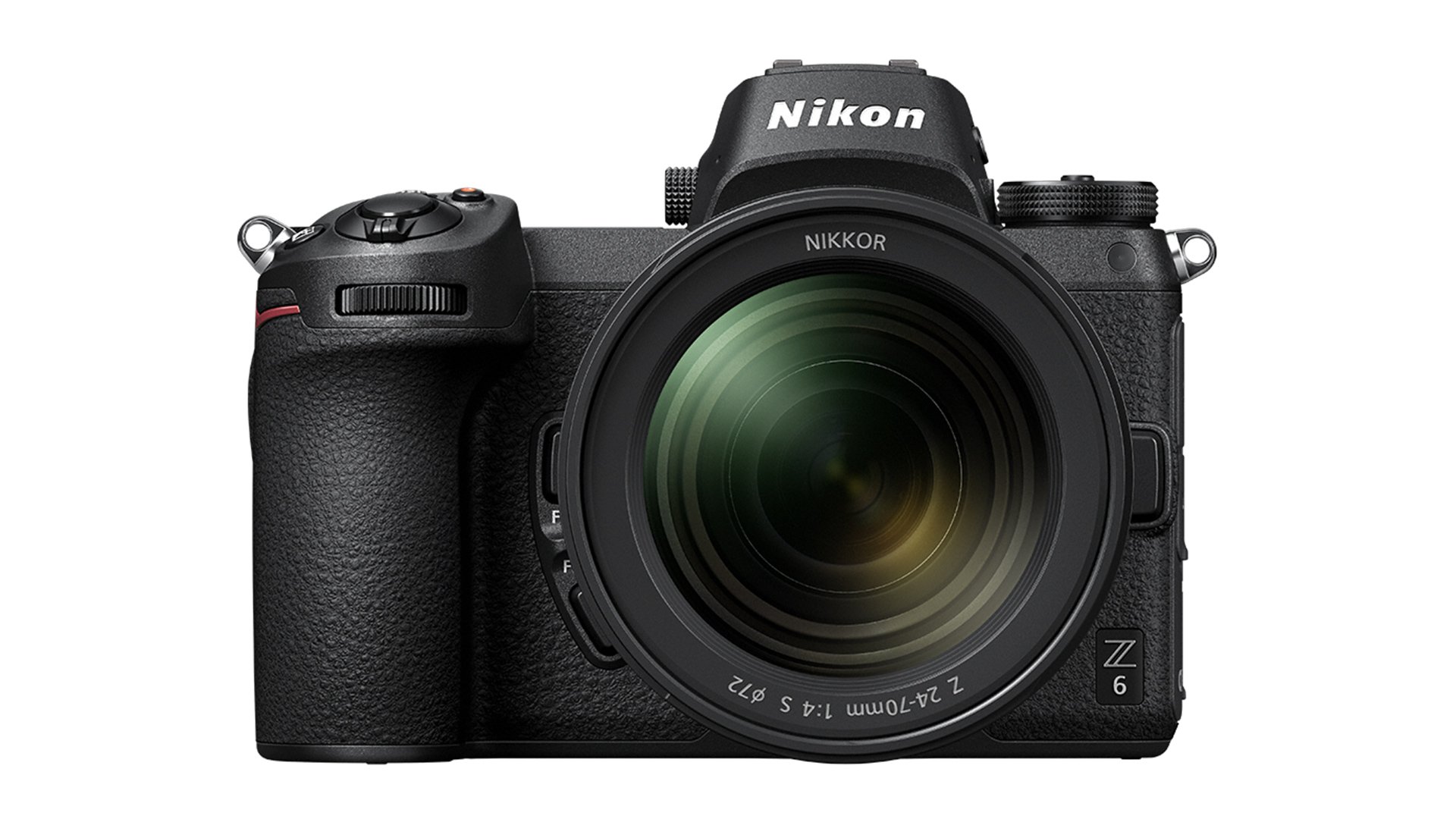 The Nikon Z 6 is one of the hottest tickets in mirrorless cameras right now, and it's easy to see why. Its paper specifications are certainly enticing, with a full-frame CMOS sensor, 4K video downsampled from a 6K capture, ensuring true 4K imagery, 10-bit 4:2:2 output with N-log to external recorders, and a compact form factor.
The Nikon Z 6 is therefore on the top of the list for a lot of video producers and Vloggers. I was recently loaned a camera for review, so now, finally, I was able to take a good look at it in actual use.
The Z 6 is still predominantly a stills camera, although it does have more of a video slant than its more expensive stablemate, the Z 7. The Z 6 has a lower pixel count at 24.5MP than the Z 7, but larger photo sites, making it more sensitive. The downsampling of a 6K image is also more suitable for video vs the line-skipping of the Z7 (no doubt as a result of its sensor having double the resolution of the Z 6 making a larger downsample much more processor intensive).
The Z 6 has a myriad of features to make stills use a joy, but although I will touch on this during the review, my focus will very much be on the video angle, particularly via an external recorder. In this case an Atomos Ninja V.
For now, let me take you through things in my usual fashion, starting with...
Build quality, controls, and ergonomics
The Nikon Z 6 is remarkably compact given that it is a full-frame camera
The body of the Z 6 is compact, and quite solid feeling. It is constructed from magnesium alloy with strategically placed textured rubber/plastic for hand grip. It is a very functional looking device. The body has a narrower depth than an equivalent DSLR due to the mirrorless functionality and shallow flange back distance.
The left hand side of the camera is home to input/output ports, including the 3.5mm headphone jack and mic in, USB-C, Mini HDMI out, plus a remote socket.
The top of the device is home to a shooting mode dial, hot shoe, on/off toggle, shutter release with separate video record button, exposure compensation, ISO selection button, and a settings dial (there's an additional one protruding from the front of the hand grip. As well as this there is also a very nice, clear LCD display that shows the battery level and camera settings.
I'd like to draw attention to this because there are quite a number of mirrorless cameras out there that do not have such a display. Personally I find it essential, especially for stills, to see at a glance what my shutter settings, ISO etc are, rather than having to rely on the much less easy to read LCD monitor on the back. So this is a big plus point for the Z 6 in my eyes.
The right hand side of the camera is home to the XQD card slot. I would ordinarily like to have a dual slot, perhaps one for an SD card in addition to XQD. This is simply from the viewpoint that if you need to get hold of extra storage quickly, XQD cards are not easy to find, and they are relatively pricey. A 32GB card for instance costs around £100.
When Nikon release the forthcoming firmware update that will also give ProRes RAW output, the camera will also then take the new CFexpress cards as well, which are an amalgamation of XQD and CFast technology. This will make hugely fast speeds possible, but at a price.
These are professional style storage options, and the Z 6 is a camera that is generally aimed at the high end of the prosumer market, so, particularly if you are going to be shooting video, the cost of storage does need to be taken into account. Such cards are very consistent in speed for such tasks as writing the 12fps burst that the Z 6 is capable of in stills mode.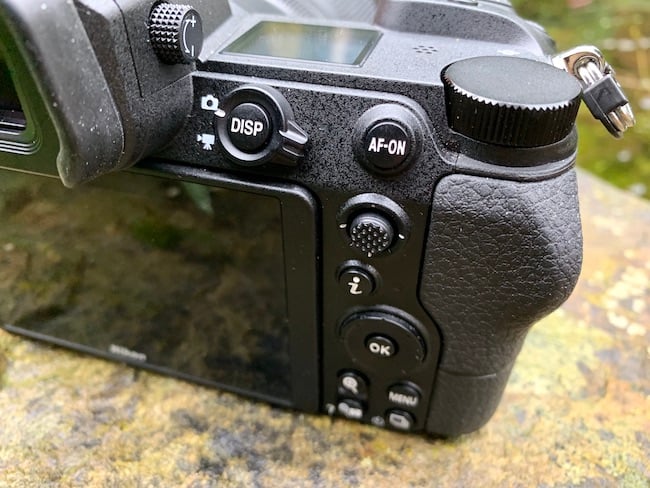 Rear controls on the Nikon Z 6
The rear of the Z 6 is home to menu and review controls, and a toggle that goes between stills and movie modes. The vast majority of the area is taken up by the large LCD display. This is tiltable, but does not have a horizontal hinge. This allows it to be angled down at 45 degrees for high angle shooting, and angled up to 90 degrees for low angle shots.
The lack of a horizontal flip out will generally only affect self shooters making blogs. But this is not an issue when the camera is teamed up with an external recorder/monitor, something I highly recommend, but which I will come to at a later point.
Lastly there is the eyepiece viewfinder. Naturally, being a mirrorless camera this is an electronic display. An OLED one no less, with 3.69M dot resolution and 100% coverage with 0.8x magnification, making for, on paper at least, a very high resolution and effective viewfinder.
Lastly it should be mentioned, for those who will be using it primarily for stills that the Z 6, with appropriate lenses, is fully weather sealed. Quite a useful feature for this particular camera user, who quite often finds himself out on a river in the pouring rain!
The top of the Nikon Z 6 showing the nice, clear top display for seeing settings at a glance.
Initial use for stills
For most of the review I would like to focus on the video capabilities, as this is generally the most relevant to RedShark readers. However it would be to do the camera an injustice if I didn't comment on its use as a stills camera. Particularly because it is, well, primarily a stills camera!
Unfortunately during the test period the UK wasn't exactly full of sunshine and blue skies. We can't always have perfect conditions.
The Z 6 is, thankfully, fast, pretty much instant, to power up and be ready to shoot. Although I come from using a Canon camera, I found the controls pretty easy and intuitive to use. Most of the important settings are easy to hand.
As a point of detail for those needing to use the Z6 with flash, the maximum synch speed is a very respectable 1/200. This is neither the fastest speed, nor the slowest, but it is enough to make the camera suitable for a good set of circumstances. Although for the very fastest action where flash fill is needed you may need a camera with a faster synch speed.
Battery life was good. I've seen the Z6 rated at 330 images per charge elsewhere, but I would take this figure with a large piece of salt. I took around 220 images on one test using Burst mode extensively, and the battery had roughly 3/4 of its power left.
The camera feels good in the hand. The nice, deep hand grip makes holding it solidly very easy. The eyepiece viewfinder is excellent. It is vivid, sharp, and high frame rate. There is ever such a slight delay between moving the camera on fast shots and moving on the display, but in general use this shouldn't be much of an issue as it is only very slight. After a while of use I forgot I was using an electronic display instead of the usual optical one I am used to using on a DSLR. Certainly the 100% frame coverage is a big advantage over the latter.
The menu system
For the most part you hopefully won't need to use the menus much for stills (with video it's different, which I'll come to in the next instalment of this review). Most important settings can be accessed from direct controls, allowing you to select picture profiles, resolutions etc.
The menu system is clear when you need to use it. The exception is when you need to access more specialised settings, which you'll have to do when going out to the Ninja V recorder. Some of these can be buried a bit deep into the menu structure. Given that the Z 6 will likely be used extensively with such recorders one suggestion I have for Nikon is to create a direct N-log out preset that sets all the correct settings in one go.
That's it for introductions. Next time around I'll be focussing on what most RedShark readers are interested in, and that's using the Z 6 for video.