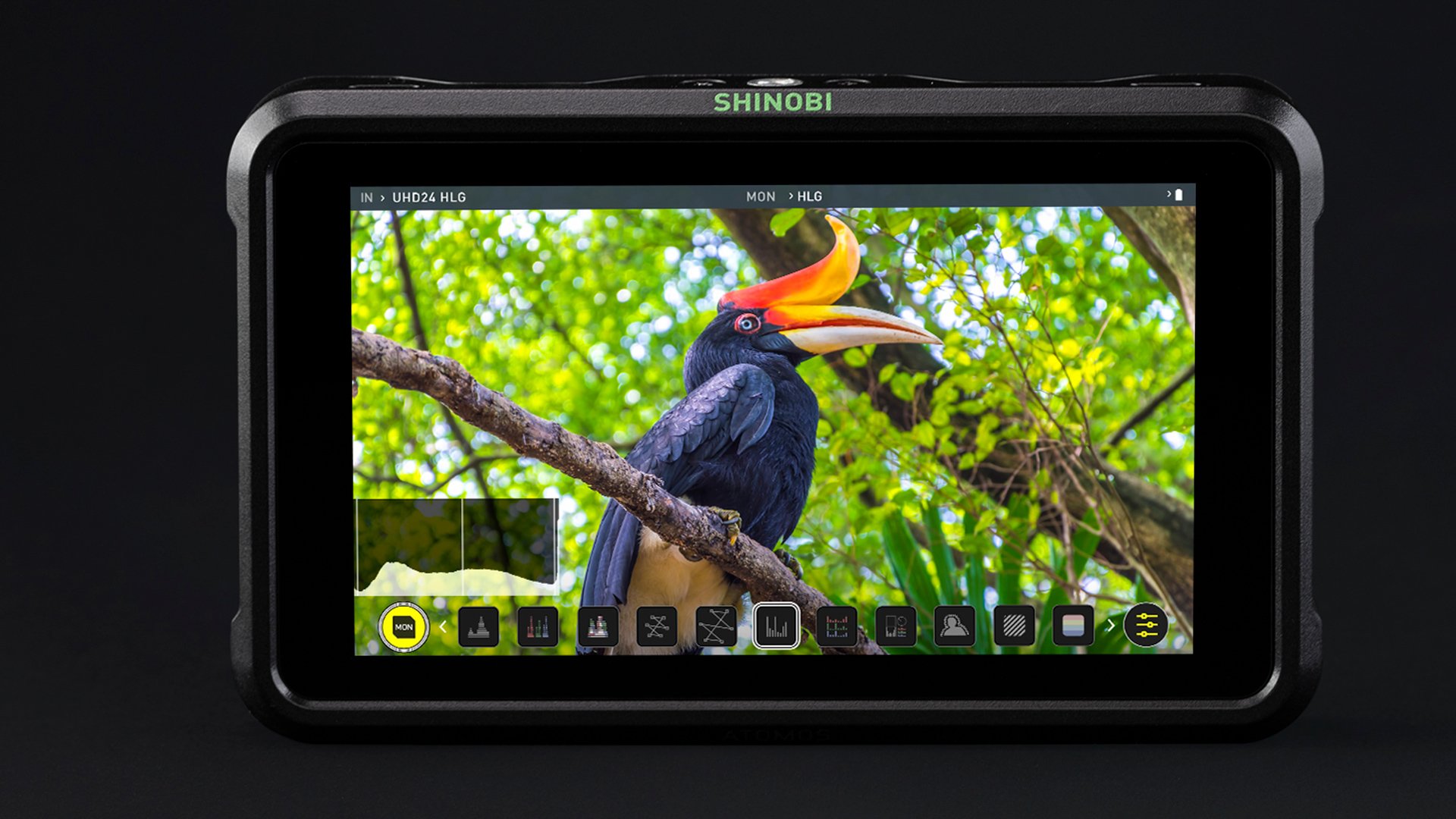 The new 5.2" Shinobi HDR monitor from Atomos was a surprise announcement this week. We take an exclusive first look at it.
The Shinobi carries on Atmos' obsession with expert Japanese combatant titles. Shinobi was of course another word for Ninja, and so it is that the new HDR monitor from the company fits directly alongside the Ninja V recorder/monitor, with one important difference. The Shinobi is a monitor only and doesn't have any recording functionality. This is a good thing as you'll see.
Not everyone wants to record their footage to an external monitor. Putting recording functionality into a monitor means that it becomes more expensive, more power hungry, and heavier. If all you want is simply a better way to view and frame your footage, then recording abilities are simply not required. And this is where the Shinobi fits into the market nicely.
The AtomOS icon structure is incredibly easy to follow.
Specifications
The Shinobi is touted as being a 4K monitor. It is in fact a 1920x1080 monitor that accepts a 4K signal. At around 5" the pixel density is 427ppi. Therefore there wouldn't be a huge benefit in having full 4K resolution at that size, and for critical focussing the picture can be zoomed into.
The Shinobi is capable of 1000 nits and a claimed 10-stop contrast range. Further, it is fully compatible with the X-Rite i1DisplayPro for calibration.
The Shinobi is also very affordable, retailing at $399. Resolutions wise the device supports 4K resolution input from 23.98p up to 29.97p, meaning that currently 50p and 59.94p is unsupported. However higher frame rates are supported up to 59.94p for HD.
Some of the setup options available on the Shinobi
Out of the box
The Shinobi is touted as being light, and Atomos isn't kidding. When you lift the device out of the box it seems to weigh next to nothing. 200g to be precise. It is still very nicely built and put together, as all Atomos equipment is, but it certainly is incredibly light. It doesn't come with a battery included, so you will need to purchase one separately, but it takes the same type as other Atomos monitors such as the Shogun (NP-F).
Once a battery is attached the weight does of course go up a bit, but not by much, meaning that this will be a really useful monitor to have mounted to a DSLR or mirrorless style camera without making things heavy and cumbersome. Something which can be a problem with other monitor/recorders.
Being for monitoring only, inputs and outputs are pretty minimal. There's one full size HDMI 1.4 in, 3.5mm headphones out, remote in, and an SD card slot. Why is there an SD slot on a device that doesn't record? Good question. It's there to be able to upload LUTs to the device, as well as to issue firmware upgrades. On the top and bottom is a 1/4" mounting thread.
On the rear is the single battery slot for the aforementioned NP-F style batteries and a large power button. The Shinobi draws a maximum of 7w, so with a smaller 2600mAh battery you should be getting around 2hrs of usage, while for the largest 7800mAh cells you should get around 8hrs or more. Not having recording built into a device shows its advantages in this regard.
Keeping it simple. There's one HDMI 1.4 input, and that's it for video signals.
In use
The test unit we were supplied apparently had some features missing from the full public firmware release. However, the unit comes with the AtomOS installed, as you'd expect.
The screen is definitely bright and very clear, even in bright outdoors light. The touch screen is fast and responsive, and the recent change to the AtomOS means that most functions are available very quickly from a row of icons at the bottom of the screen. In fact the whole interface is extremely self explanatory. Everything you could possibly need to assist with shooting is there, from RGB histograms, RGB parade waveforms, luminance waveforms, vectorscope, focus peaking, false colour and more besides.
Gone is the HDR slider from previous versions of the OS. When outputting a log signal to the Shinobi you need to enter a sub menu to and set it up for the signal that is being given to it, eg Sony S-log. Most major manufacturers log output is catered for, including Arri and RED. Blackmagic Design however is not here, so you will need to input a custom LUT, such as BMD's own Film to Extended 709 into the device to de-log the signal, as it were, from cameras such as the BMPCC 4K.
Conclusion
The Atomos Shinobi is a great little device. If you are fed up of having to pay for recording abilities that you never use, the Shinobi will be right up your street, and at $399 it won't break the bank either. It's bright, very, very light, and has incredibly good battery life. Yep, I like it.
Tags: Production