Cinematography and documentary come together in the Amazon Special All or Nothing: Manchester City. Matt Gregory talks to DP for the series Mike Staniforth about the triumphs and challenges of bringing cinema cameras into a sports stadium
Hi Mike, first of all, tell us how you became involved in All or Nothing: Manchester City? (I'm assuming there's something to do with your location but for a series this huge I imagine the production company could've chosen any DP they wanted)?
I received an email enquiry from the production manager of the show asking for me to be ready for a Skype call with the director, Manuel Huerga, as soon as I could. It didn't really dawn on me how big the project was at that time, or even how much bigger it was going to get. The production company is based in Barcelona. They were hired by Amazon to produce the series and Manuel was based in Barcelona too. He obviously has DPs he's worked with in the past, but not one that could relocate to the UK for such a long period of time. The director and I instantly hit it off. He explained the project to me and we found an instant connection with the musical history of the City of Manchester: Joy Division being one of my favourite bands, and Manuel had directed a documentary on New Order back in the 1980's. This was the key to me being hired I believe, having a connection with the director and using it as a foundation to build a relationship.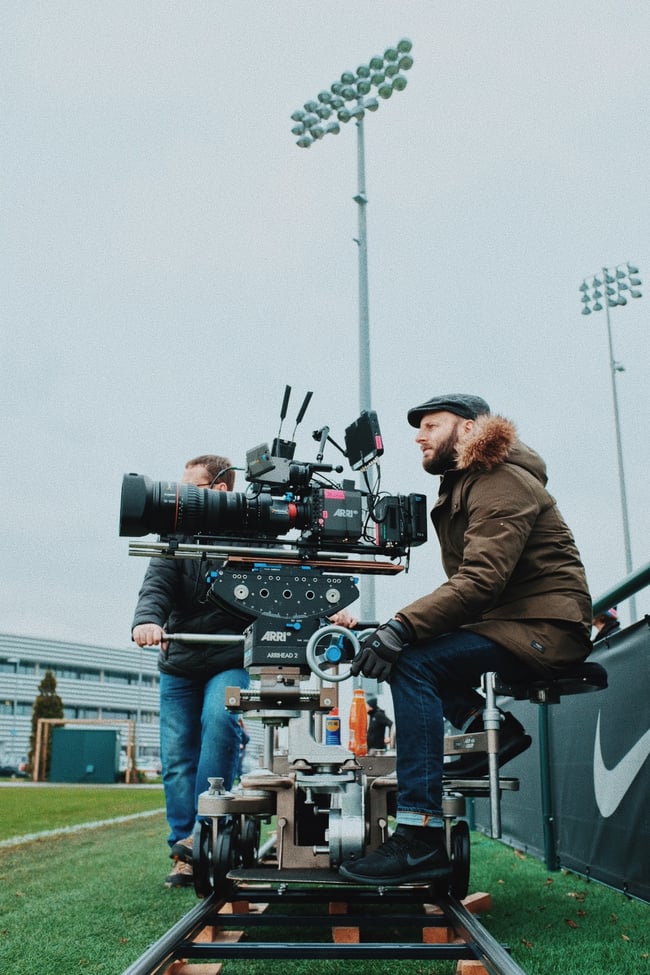 Had you seen the US Football series (starting in 2016 with the Arizona Cardinals) beforehand and if so, did that give you a guide for how it "should" look or were you able to come up with your own ideas?
I had seen the show in parts, but it was obviously referenced when we first started - that and Last Chance U on Netflix. We actually preferred the style of Last Chance U and used it more as a visual reference at the start of the project, but we had no idea what kind of access we were going to get or even how close we could get to the team so the first month or so we were finding our own style based on how close we were allowed to get.
Did you spend a lot of time with the post production team, editors, colourists etc?
I spent a long time at Deluxe in Barcelona with the colourist, Jorge Ortiz. He deserves a special mention in this because he worked so hard on such a tight timeframe to match everything that we shot with the broadcast material we were given. There is an average of 400 cuts in a TV show episode, with the colourist usually having 3-4 weeks to work on each episode. All Or Nothing has an average of 900 cuts per episode and Jorge had five weeks to grade 8 episodes!! We initially found a good look that worked in the first episode, we were mastering for HDR so I wanted to dial back the super-saturated and contrasty look you usually find on major sports networks and replace it with a slightly muted and softer look with a fine grain. This looked wonderful at first, but Jorge had issues trying to match the broadcast material from the EPL games (all shot under various different exposures and different light and which has already been pre-coloured) with our own footage, especially with the time constraints, so we found something in the middle that made his job a little easier. I am happy with how it came out though the difference between our cameras (Arri) and the broadcast is night and day, in my opinion.
How was the access to players and staff? I must add that as a football fan myself I've never seen anything quite like this. There are other very good football documentaries out there like "The Four Year Plan" but none come close on a cinematic/ player access level to this. That couldn't have been easy
No it wasn't easy, we were walking on eggshells to begin with, but it quickly became familiar to both us and the players. The back room staff were and are amazing: they were very welcoming and really are the unsung heroes of all Football clubs. They are what make the club tick and, as you can see in AON, they're some of the best characters. After a couple of days you forget who the players are in terms of celebrity status and start seeing them for what they really are, human beings. Some people, naturally, are more receptive to the cameras, whilst others are more reserved. But once you become a familiar face, you become part of the surroundings and then the club itself. I think the hardest thing for us was to get across that we were not the press, we were not trying to get gossip or dig up any dirt to sell to the tabloids, we're filmmakers making art.
What was your camera crew (focus pullers, AC's etc)?
The crew was small at first: myself, the director, production manager, assistant director, my camera operator, sound and DiT. This was considered the core crew and we were based in the first team centre with the players, that way they could grow to know and trust us. By Christmas we had gained a few new faces, production coordinator, AP's and loggers. But it was always the plan to keep the crew small on site and then hire in additional units as needed, for match days, training sessions etc.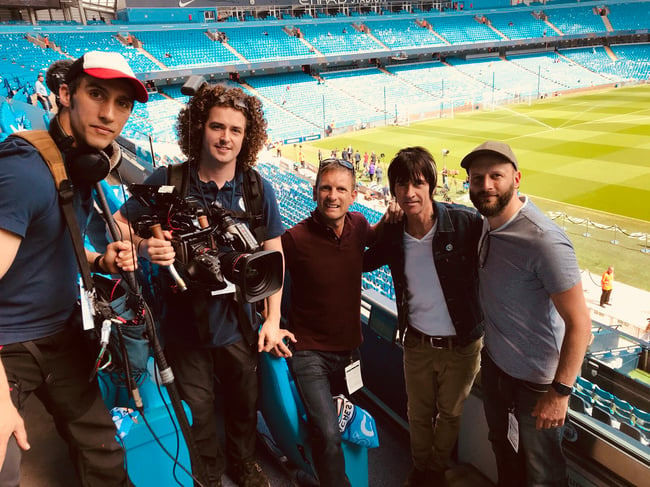 What gear did you use and how did you adapt from one situation to another (ie big rig with dolly etc for training shots that you could plan for as opposed to "run and run" shoots in confined spaces like stadiums, changing rooms etc)?
The director wanted a cinematic look to this series, much more than you see on other sports networks or popular football shows with quick turnarounds. So I obviously opted to shoot the majority of the show on the Alexa Mini and Amira. For match days we had a minimum of 2 Alexas with the Canon 50-1000mm capturing match highlights and colour, we also used either the Mini or Amira with 50-1000 for training sessions. Certain training sessions we could set up a dolly with 120ft track.
For some 'big' games we had the Phantom Flex 4K grabbing super slow mo action. The Amira was setup with Cooke Minis for any fly-on-wall setups. The same setup was used for the sit down interviews.I also had a C300 MKII with 24-105mm always set up and on hand in case something happened at quick notice.
The C300 is a great little workhorse. I shot in CLOG2 with Cine Gamut and it held up well when cut in with the Alexa, though that is all down to Jorge the colourist. We also had the GH5 with VLOG that the assistant director, Enric Folch, used in the dressing room. 99% of the footage in the dressing room was shot by Enric. Being Catalan he had a relationship with Pep and Pep's assistant so he was the only one allowed in the dressing room during the games. Understandable as they didn't want a film crew getting in the way or causing any distractions. Enric did a great job of blending in with the team to the point they forgot he was there a lot of the time. Some of the most interesting footage comes from the teams tactics room at the first team centre.
We installed 3 Sony RX0's which were all wired in to separate Atomos recorders enabling 4k recording. From the recorders we wired a master record button so if any last minute meetings were called, we just pushed the button without having to disturb anyone.
Audio must be a nightmare on a series like this
Sound Recordist Mark Schofield did a fantastic job given the constraints.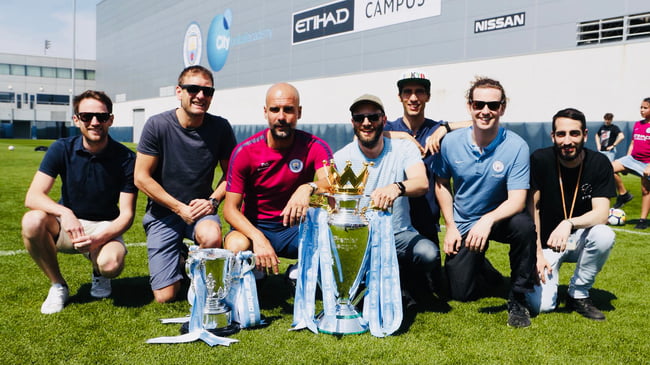 You mentioned Last Chance U (my personal favourite sports documentary of all time BTW) as a source of inspiration behind the look you wanted to achieve. If this project was a Netflix production as opposed to Amazon Prime would that have changed your camera set up (ARRI cameras "only" being 2K and Netflix requiring 4K acquisition)?
Yes I would have had to re-evaluate what camera system to shoot on for sure. We were lucky that Amazon is ok with the Arri sensor, even though it does shoot 3.2k which is then upscaled to UHD. The only stipulations were that we shoot 10-bit for HDR mastering.
If things were different I had already looked at the Panasonic Varicam line of cameras but they were a little harder to get hold of than the mini or Amira.
RED was considered as well, though at the time of pre-production I don't think there were many available to me that could shoot ProRes, so it was a combination of my preference, what Amazon would certify, and what was readily available at a moment's notice.
What piece of kit could you not have lived without on a series like this?
That's a tough question... I think if you look at the series as a whole the best content is either in the dressing room or in the tactics room as this is the footage you don't usually get to see, so the GH5 and the amazing master record button we had for the hidden cameras were the most important pieces of equipment.
How long was a typical working day during the series shoot?
As you'd expect, it was hard work, and the timescale varied from day to day.
How close did the final series come to how you imagined it would look?
Hard to answer, some aspects came out looking better but some not so much. This I'm putting down to not getting certain access to certain areas with certain equipment. But overall we're all very proud of how the series looks.
Finally, as a Manchester based DP: City or United?
Liverpool.
Mike, as ever, was part of a wider team on All or Nothing. Kudos to the rest of the crew, too:
1st Assistant Director - Enric Folch
1st AC/Camera Operator - Leighton Cox
Sound Recordist - Luca Stifani
Sound Recordist - Mark Schofield
Line Producer - Rob Darlington