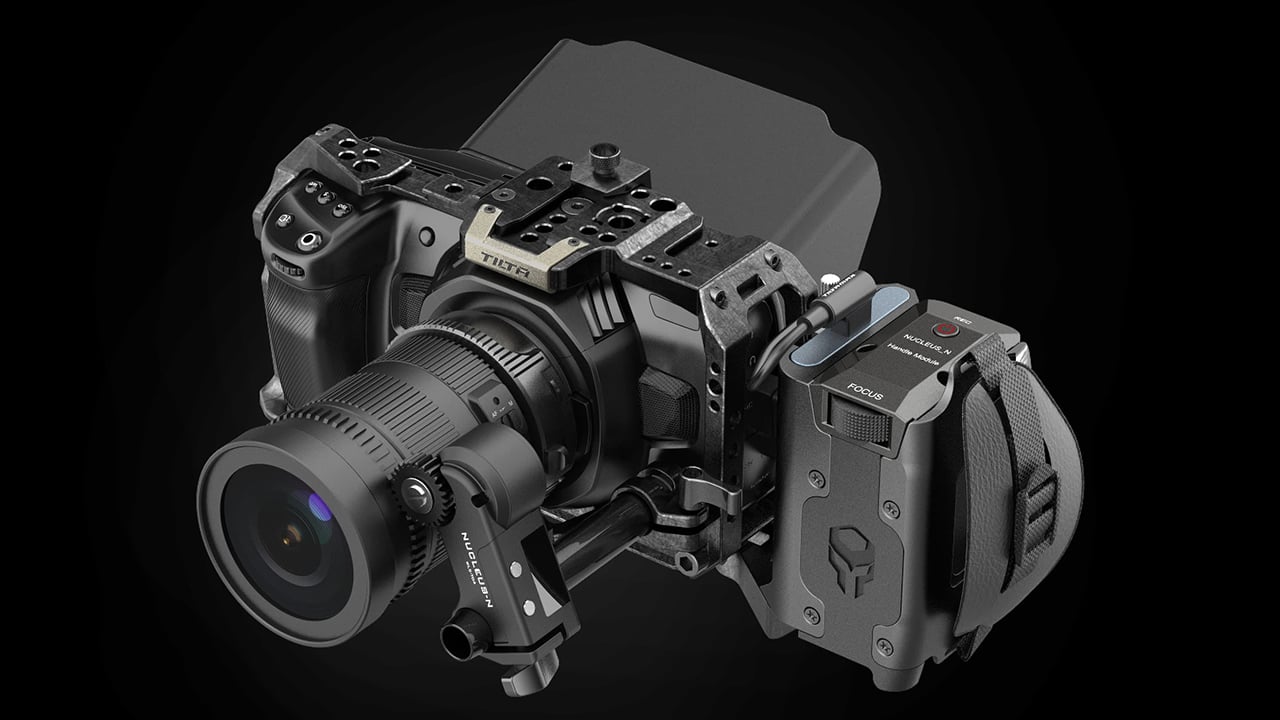 There are now a few options on the market for a Blackmagic Design P4K cage, but this one from Tilta could well be the most impressive we've seen for any camera!
Cages are one of those things that I am torn with. On the one hand I would prefer to keep my cameras close to the original design. I simply do not want my gear to be any more cumbersome or heavy than absolutely neccesary. However I might be persuaded to change my mind with this new design from Tilta for Blackmagic Design's new P4K (Pocket Cinema Camera 4K) camera.
The full base P4K cage from Tilta
The P4K has a couple of things that would be nice to solve design wise. The first is battery life, and the second is where or how to mount an SSD drive for recording through the USB-C port. Now there are a couple of options for the latter from other manufacturers, and there are a couple of power solutions out there. But all of them are a bit ugly and look 'added on'.
In contrast the new Tilta cage looks to be an ingenous solution to the problems. Tilta are offering two solutions to power. One is to have an adjustable height mini V-lock or Sony F970 baseplate cage that attaches to the underside of the camera. This will of course be great for long form recording. There is also an option of an LCD shade with a built in SSD holder for the excellent value Samsung T5 SSD. But what's got our attention is the MHC-2 side handle power option, which allows a Sony F970 battery to be fitted inside the handle grip, which can then also power external accessories.
The ingenious MCH-2 battery grip with integrated focus unit control and Samsung T5 SSD holder
This grip can also power and control the Tilta Nucleus-M Focus Control unit by way of a finger operated wheel. There is a slightly smaller handle option (MHC-1) that takes a Canon LP-E6 battery, but this can only power the focus control system, not the camera itself.
The alternative sunhood with integrated Samsung T5 SSD holder with lockable USB-C connections
The added beauty of the MHC-2 handle is the integrate Samsung T5 SSD holder. As long as Samsung keeps producing drives with this form factor, this is an incredibly elegant solution to the probnlem of where to place the SSD during recording. The only drawback I can see is that the handle obscures the Mini-XLR socket on the side of the camera, so I'm not sure how Tilta will be addressing this.
However the compay has provided for lockable USB-C connectors, as well as a right angle HDMI adaptor. With any luck they will create a similar fixture for the XLR so that microphones can plug into the rear of the cage.
The full Tilta P4K camera cage system
We think you'll agree that this is one lovely looking system. There's no word on a release date as yet, and you will need to sign up for updates on when pre-orders will be taken. However Tilta have released a pricing system, and it would appear to be very reasonable, with the half cage at $69, the full cage at $99, and the top handle at $79. The full system with power handles will clearly cost more, but it does look like being a great system. Tilta has even thought about how the camera can be adjusted to fit onto gimbals.
For more information visit the Tilta website.