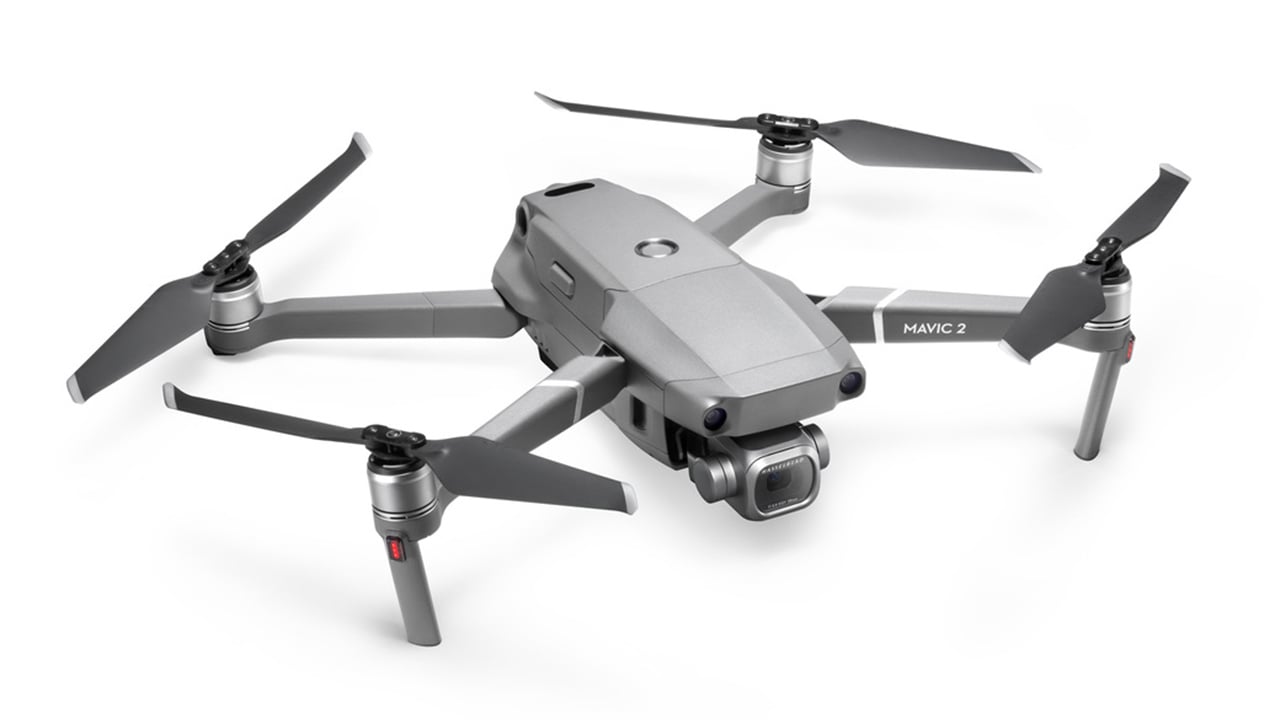 The drone world has just been dealt another game changer in the form of DJI's new Hasselblad equipped Mavic Pro 2. And yes you did read that correctly!
In January 2017, DJI acquired a majority stake in the venerable camera manufacturer Hasselblad. This was big news and we have since anticipated a drone camera incorporating Hasselblad technology.
That anticipation came to fruition in today's announcement of DJI's Mavic 2 Pro, the first drone integrating a Hasselblad camera. But DJI wasn't done with announcements. Also introduced today was the Mavic 2 Zoom, the first foldable drone with an optical zoom lens.
The Mavic 2 models build upon the original Mavic Pro released some two years ago. Today's releases have both enhanced cameras as well as several new tools and features which we will detail.
DJI's new Mavic Pro 2 folds up to a tiny size just like its predecessor. This new one has a Hasselblad on the front of it, however!
Let's start with cameras.
Mavic 2 Pro Hasselblad Camera
What else can we say about a drone selling for under $1500 with a Hasselblad 1-inch CMOS camera resolving 20 megapixels. And with an aperture range between f/2.8 – f/11. How about if we add to that a 10-bit Dlog-M gamma, 4K 10-bit HDR support with HLG to plug directly into compatible 4K-HDR television. And it has Hasselblad's color science.
Mavic 2 Zoom
Retailing at $1250 US, the Mavic 2 Zoom is based around a camera with 1/2.3 CMOS sensor with a 24-48mm optical zoom and 2x digital zoom for up to a 96mm focal distance simulation. Its sensor resolves 12 megapixels in full HD frame size. Of course it shoots 4K. Its hybrid autofocus is faster and more accurate than prior models. A super resolution features enables the optical zoom to capture and stitch together 9 photos to create a 48 megapixel image. Remember how Jaws was shot? Dollying out while zooming in. Mavic 2 Zoom's Zoom QuickShot mode will zoom into the subject as it flies away.
Common To Both New Models
Both cameras shoot up to 4K resolution with bit rates of 100 megabits and with H.265 codec. In still mode, both have Enhanced Dynamic Range modes to blend a sequence of photos with 14 stops of dynamic range in the Pro and 13 stops in the zoom.
The new Hyperlapse feature produces timelapse establishing shots which then can either be saved to internal storage or shared immediately on social media. Still photogs can save both JPEG and RAW files to the same internal MicroSD card. These can be created in Free (manual), Circle (automatic circular flight path), Course Lock (fixed on subject while flying) or Waypoint (flight path based upon altitude and GPS coordinates) modes.
ActiveTrack 2.0 enhances the original MavicPro feature adding the ability to track subjects moving up to 72 km/h (44 mph).
It gets harder to destroy your drone by obstacles with the inclusion of 10 sensors on all sides of the craft.
The Advanced Pilot Assistance System sees improvements in navigating around obstacles. And auxiliary bottom landing lights make spotting the drones easier in low light.
The video transmission system to the remote controller now supports both 2.4 Ghz and 5.8 GHz bands and can transmit a 1080p video stream for immediate capture and edit.
Flight times are now extended up to 31 minutes.
Both cameras are available immediately with the Mavic 2 Pro listing at $1449 US and the Mavic 2 Zoom listing at $1249. Both of these units come in a kit including drone, battery, remote controller, charger and 4 pairs of propellers. A Fly More Kit sells for $319 and includes a power bank adapter, two additional pairs of propellers and a carrying bag.