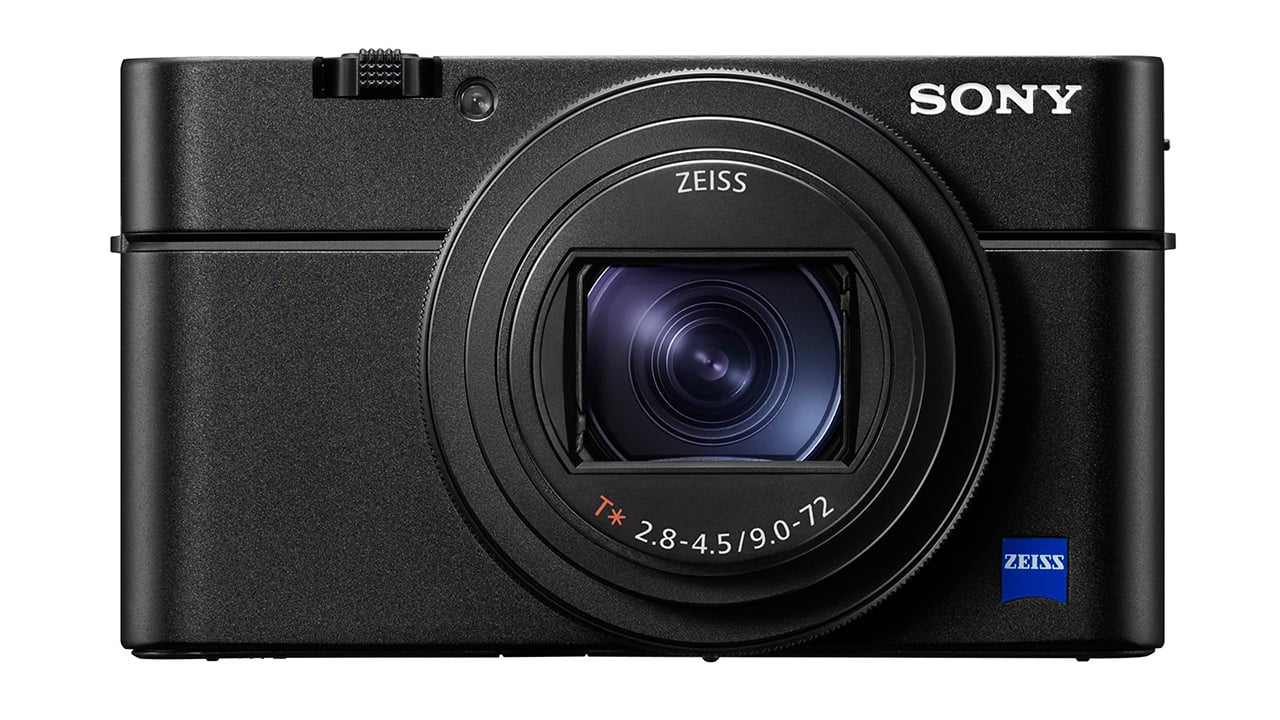 Sony has done it again with another new bombshell in the form of the RX100 VI, a seemingly vastly improved version of an already very capable little camera.
Sony has just announced its latest addition to the Cyber Shot RX family of 1" CMOS sensor cameras, the RX100 VI.
The RX100 VI follows the popular RX100 V in identical size and form factor but with significant features both for still and video shooters. While retaining the CMOS 1: 20.1 megapixel sensor, the RX100 VI sees significant speed improvements in autofocus speed and capabilities. With some 315 phase-detect AF points covering 65% of the sensor and a .03 second AF response time, the camera is highly suited for following action in both still and video modes. Improved Eye AF interpolates eye movement and maintains AF even when the subject turns eyes away from camera. In still mode, continuous shooting up to 24fps is now possible.
Front view of the RX100 VI showing the flipped LCD screen
The RX100 VI has a fixed Zeiss lens with 24-200mm focal range at f/2.8-4.5. This makes it an ideal pocket camera for virtually any range.
The menu structure is identical to Sony RX and Alpha series cameras with both a shortcut Function button as well as full menus. The Function button in Sony cameras is particularly useful for quick access to such functions as shooting mode, AF mode, Picture Profile and metering mode, among others.
In still mode the camera can shoot RAW, JPEG of varying qualities as well as RAW + JPEG. Recording is to a single SD card.
Rear view of the Sony RX100 VI with the flip out LCD screen
Video modes are impressive. In addition to Rec709, SLog2 and SLog3, the camera has HLG capabilities and can shoot 4K up to 30fps while slo-mo up to 120 fps is possible in HD. 4K video is recorded with full sensor read-out with no pixel binning.
It has a pop-up OLED viewfinder, built-in flash, and viewing screen that can adjust to virtually any angle, including reverse facing subject for monitoring oneself.
Sony referred to the camera as a "blogging" camera, but for video use it truly is much more. Keep reading to find out why.
The RX100 VI fills a very important product niche and is significant within the Sony ecosystem.
Close up of the RX100 VI's eyepiece viewfinder
Pocket professional cameras are extraordinarily useful for pro's on the go or in areas where there may be sensitivity to what appears to be professional photographic gear. But more significant is reading between the lines of Sony's Cine Gear announcement that James Cameron would be shooting Avatar sequels on the Sony Venice. Careful reading will indicate that Cameron will be shooting Sony Venice, Alpha and RX cameras. Since all of these cameras can cut together nicely and since Sony has quietly introduced SLog3 to Venice LUTs, RX100 VI can work very effectively for quick shots in close quarters where a Venice would be impossible or even an Alpha series camera impractical.
Side view of the Sony RX100 VI showing the eyepiece viewfinder
Also introduced was a short handgrip for Sony RX cameras, the VCT-SGR1. The mini-grip mounts via the tripod threaded hole and connects to camera via mini conntector. While not a stabilizer, it nonetheless allows significant movement and can control shutter and zoom.
Author showing off the diminutive size of the new Sony RX100 VI
Pre-orders for the RX100 VI start on June 7 with deliveries in July. Pricing is $1200 US.
The VCT handgrip is available for pre-order as well at a price of $100.
Read the full Sony press release on the Sony Press Centre website.