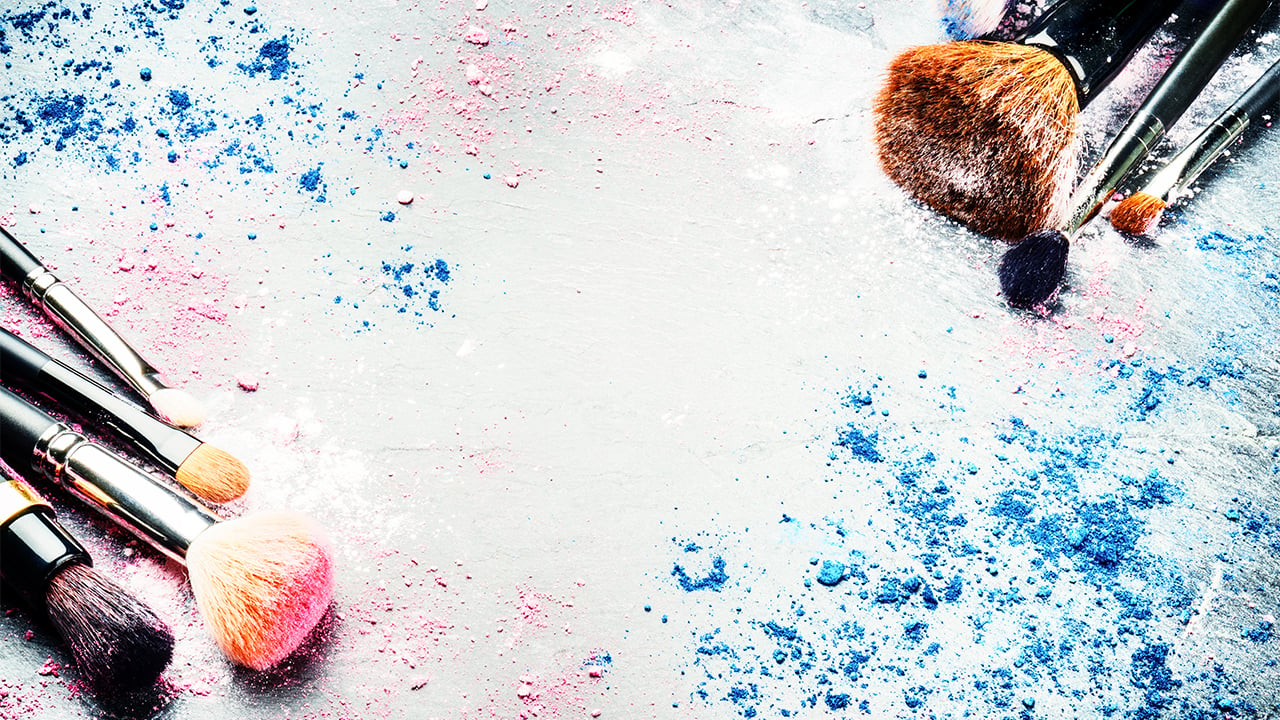 HD and now 4K. It's the nightmare of actors and presenters around the world! Matters are made worse if there's no budget for a makeup artist. But do not fear, Jody Eldred is here to give some essential tips on how to make your talent look their best with some easy to get hold of kit.
Today's video cameras can be very unforgiving when it comes to emphasising any flaws in a person's complexion. And let's face it, everyone has flaws. (OK, maybe Christie Brinkley, Michelle Pfeiffer, and Cindy Crawford were exceptions – 25 years ago when I was working with them.) When cameras switched from SD to HD (or 35mm film to HD), on-air talent and actors absolutely freaked out over how they feared the resolution and sharpness would exaggerate every blemish and every wrinkle. Makeup artists raced to find the latest and greatest solutions, some of them asserting that air-brushing a subject's face was the ONLY way to apply makeup in the high-definition era. (That was incorrect, by the way.)
Now we're shooting in 4K.
The horror.
Sometimes, no matter how carefully and softly I light a subject – even adjusting the camera for skin detail (where possible) – there's just nothing that will compensate for imperfections in a person's complexion and shine – especially in a warm (sweaty) environment. Add in some age and the wrinkles they've earned and you might have a real challenge on your hands because the camera does exaggerate those, especially when shown on a big screen.
Options
So, what are my options? Hiring a makeup artist ("MUA") is usually the most effective solution, but unless you have the time and budget – and in the world of news, docs, and a lot of reality and corporate, you do not – you're on your own.
Having had the good fortune to work on network dramas like NCIS, many feature films, large and small, high-demand network news magazines (with very demanding on-air talent who will go unnamed – but you can possibly guess), I've learned a lot about problem-solving… What works, what doesn't work, and what realistically can work for my situation.
Solutions
In addition to flattering lighting, there are four solutions I've found (which can be used in combination):
Makeup
Camera filtration
Skin-softening/correction in post/colour grading
Only use on-camera talent who are under the age of 12 and have perfect skin
Let's eliminate #4 right now and focus on the real world.
To narrow it down further, in this article, part one of three, let's focus on makeup.
I am not an MUA (Makeup Artist). Not at all. I don't know a single cameraman/DP/shooter who is. In fact, I don't know any who even have the slightest bit of training in that area, aside from, "Maybe we should put some powder on that shiny forehead?"
Now, I do know a lot of guys/gals who carry some kind of powder they occasionally might use, depending on how bad the shine is and if the powder somehow matches the person's skin colour. Otherwise, "It is what it is." Not a good solution.
A bunch of years ago I happened to be shooting a segment for Good Morning America, working with one of the most celebrated MUAs in Hollywood, Joe Blasco. At the end of the shoot, I explained the dilemma most shooters like me were in… we had no training and basically no idea what to do with shiny skin and obvious skin flaws. He graciously set me up with a few of his signature products (pressed powder) and showed me how to use it. VERY basic, but way better than nothing!
Age old problem
Skip ahead a couple of decades. I'M the on-camera "talent" for some demo videos (some seen here on RedShark News.) While I'm not particularly vain, I am 61 years old, have spent a lot of time outdoors and the years are showing. And my 4K cameras are NOT helping matters!
So I put in a call to my old friend Joe Blasco.
"Yep, I'm still shooting… yep… I still have no idea how to apply makeup or what to use… and, by the way, I'm on-camera…"
Not surprisingly, Joe has a solution that will somewhat compensate for not having an MUA and be MUCH better than doing nothing at all or using some generic powder I picked up at Walgreens.
Joe has created a series of professional pressed powders (those little "compacts" most women carry in their purses) in multiple shades, for anyone from very pale light-skinned to dark-skinned African-American, and everyone in-between. I have six different shades (actually five as one is "No Colour"): Golden (to add a very slight warmth to most Caucasian/Asian skin), Bronze (to add some more warmth), Light (light-skinned), Dark and Ebony (for African-American/Black skin tones.)
Though these come with those little powder puff pads, Joe recommended using a small brush – and a different brush for each shade so they wouldn't cross-contaminate each other. So I got six compacts and six brushes. AND he recommended I get a small spray bottle with 99% alcohol (99% evaporates quickly) to clean each brush after use since I'd be using these on different people. (You simply spray them, then wipe off with a paper towel.)
Here's my little kit:
I marked each compact with larger, quick-to-identify labels
In an inexpensive little plastic case from Walmart
It is very simple to use… anyone can do this… you simply find the shade most closely matching your talent, and brush some on to problem areas: forehead, bridge of the nose, cheeks, chin, maybe neck and maybe under the eyes. If there are some blemishes, you can use a little more to help conceal those (or "slow them down" as I like to say.)
Not a replacement for a MUA
Now, this is NOT the same as having an MUA who has the training and all the tools – like liquid makeup to conceal blemishes effectively, to lighten areas under the eyes, to blend everything smoothly. But this is a very good solution that anyone can use, and everyone should have on-hand. It usually makes a giant difference, especially regarding annoying shine that might look minimal in-person but looks horrible on-camera.
Another advantage is that you can put this on a guy and it won't look like he's wearing makeup, so he won't protest as much. He can actually leave it on. Not a big deal at all. And for women, you're probably just adding a little anti-shine to what they're already wearing. Very simple.
In speaking with Joe about the great need for this for virtually every news, doc, and corporate shooter out there, he and I are discussing creating a small "Shooters Makeup Kit" with all the little things you'd need… professional tools that are simple and effective which anyone can use. So stay tuned…
In the meantime, do yourself and your talent a favour and make your own kit. It'll save time in post trying to fix it (if it's even possible or practical) and might save your reputation in the process! At the very least, clients and producers will be impressed and talent may be somewhat relieved of The Horror…
In the next article, we'll have a look at solution #2, filters.
Title image courtesy of Shutterstock.