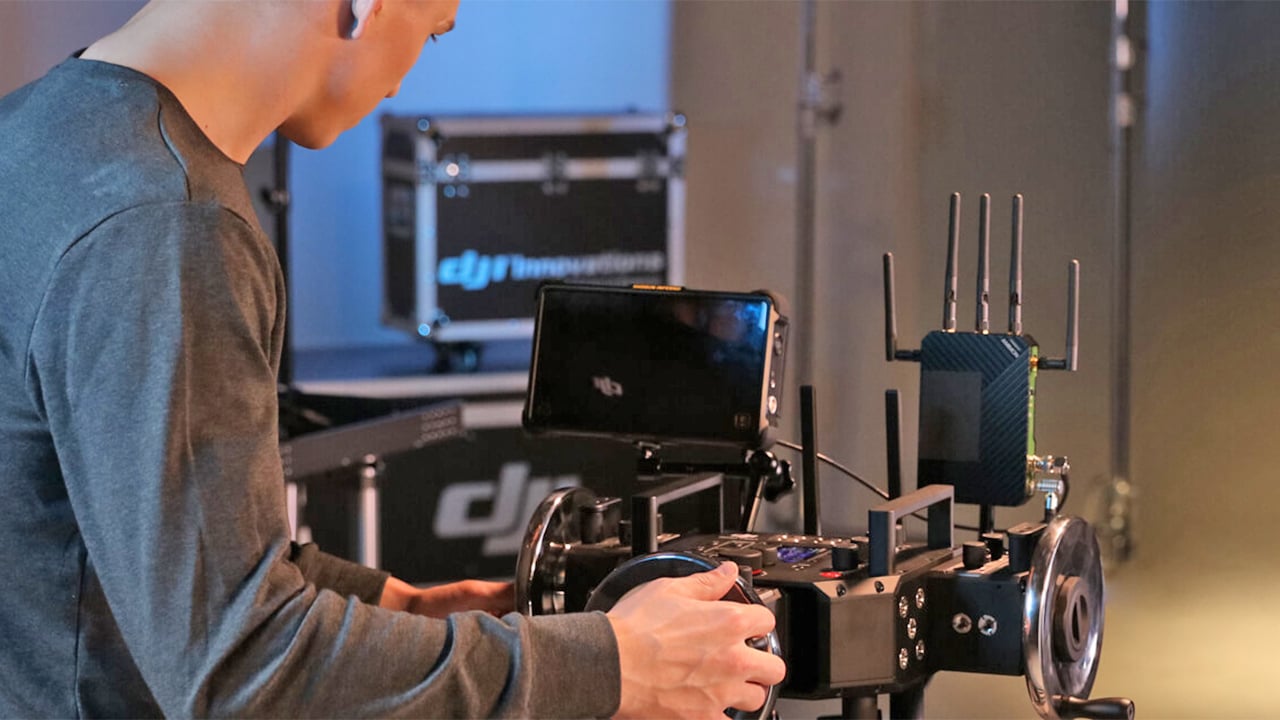 DJI's latest control units aim to give ultra high precision repeatable motion control to gimbals.
DJI have engineered two advanced gimbal controls for high-end cinematography; the DJI Master Wheels and DJI Force Pro. Both products are designed to offer precision control of complex shots and/or fast moving ones using DJI's own Ronin 2 and the upcoming Ronin-S gimbals.
Master Wheels
Master Wheels uses three weighted stainless steel wheels to adjust pan, tilt and roll. Ultra-high resolution optical encoders detect the "subtlest" of wheel adjustments, says DJI. Motion Control lets cinematographers record specific movements and repeat them when needed
The tool's positioning sensors combine with wireless transmission to ensure "a stable and reliable" connection from the main console to the moving rig with a latency as low as 10 milliseconds and an operating distance up to 3 km / 1.9 miles.
Each of the wheels is equipped with a three-stop toggle switch to control gimbal direction plus dials to control speed, smoothness, and damping. Various buttons and menus on the main control console and three custom buttons allow you to monitor equipment status and adjust settings.
The wheels and the control modules can be detached from the main console and connected with a wire if space is tight. The wireless transmitter can also be detached and remotely re-attached via a 5-metre / 16ft cord to gain a stronger signal when needed.
The main control console contains multiple threads for mounting monitors, video transmission systems, and other accessories.
DJI TB50 batteries, the same model used on the Ronin 2 and Inspire 2, power the system for up to 18 hours. Importantly for those non-DJI owners, Master Wheels also support various third-party gimbals through an S-BUS connection and can be powered through the DC-IN port to utilize V-Lock batteries from other manufacturers. News of support for more devices is forthcoming, DJI said.
Master Wheels also come with a Mitchell mount that is attachable to the base plate for connecting to tripods or vehicles.
The DJI Master Wheels
Force Pro
This is a motion sensing system that uses DJI's remote-control technology to precisely synchronize the movement of Force Pro with the Ronin S gimbal (and non-DJI gimbals). This is done by using a built-in IMU (Inertial Measurement Unit) and a compass that combine to maintain a consistent frame.
Fine tuning of gimbal and camera settings is possible from dials on the Force Pro and from a in-built OLED screen.
Like the Master Wheels, wireless transmission is available in 2.4 and 5.8 GHz as well as a wired connection. It's not quite clear from the literature if the claimed low latency of 10 milliseconds between the Force Pro and gimbal is possible wirelessly or just when tethered to the CANBUS cable.
Just like with the Ronin 2, users can adjust via the unit's built-in screen and buttons. You can even adjust using adjustment dials.
There are similar third party connectivity options to the Wheels and a 4750 mA battery that affords a maximum run time of five hours. It can also be recharged from its USB-C port or CAN BUS port while the Force Pro is in use. The included adaptor will mount the Force Pro on a tripod.
The DJI Force Pro
In Summary
Given the price, both systems are for advanced cinematographers looking for the ultimate in smooth, stable and precise movements to make filming complex footage simpler.
Availability
A Master Wheels 3-Axis Model costs $8000 (£5.6k); a 2-Axis version is $6k (£4.2k) and a Single Wheel Control Module for $2,500 (£1750) from June 2018.
Force Pro also ships in June costing $1.2K (£840).