Blackmagic Design launches a new set of very useful and extremely affordable signal converters.
Blackmagic Design's roots are in hardware for getting video in and out of cameras, PCs and displays reliably and at speed and this remains a core strength of the company's product. While 4K Pocket Cameras and whizz-bang coloring systems receive all the razzamatazz, it has launched a number of typically sturdy and radically inexpensive connectors for exchanging video around live production or post environments.
Mini Converter UpDownCross HD
The Blackmagic Mini Converter UpDownCross HD, for example, is for converting any SD or HD video format to any other SD or HD video format via SDI and HDMI input and output connections. So, you might want to connect your laptop to professional broadcast equipment like a digital projector.
BMD claims this is "virtually foolproof" because you never have to change a computer's display setting. The converter takes whatever the HDMI output is from the computer and then automatically scales and standards converts it to the correct broadcast standard set by the user.
The appliance features multi rate 3G-SDI connections that work with all SD and HD equipment and video formats up to 1080p60. With built in re-sync, all conversions match the reference input video timing signal. In addition, the converter has "extremely low" SDI jitter and high quality multi-tap video filters. This allows customers to use longer cables to maintain the integrity of the signal for broadcast quality video. Audio is also automatically delayed based on the conversion being performed and then embedded back into the signal so it's always perfectly synchronized with the video. It costs $155 (€125 / £109).
SDI/HDMI Micro Converter
A bidirectional SDI/HDMI Micro Converter is a pocket size device that simultaneously converts SDI to HDMI and HDMI to SDI. It works in all SD and HD formats up to full 10-bit broadcast quality HD 1080p60. Plus, it works in both directions with different video formats at the same time, so it's like getting two converters in one. It can powered via micro USB from a laptop computer, big screen television or mobile phone battery back (or via an optional DC plug pack). This Micro Converter costs $65 (€53 / £46).
MultiView 4 HD
The firm's new MultiView 4 HD processor lets you monitor four completely independent SDI video sources on a single display. You can monitor any combination of SD and HD formats and frame rates in each view all at the same time. Blackmagic MultiView 4 HD has both SDI and HDMI outputs so it can be used with both professional SDI broadcast displays or large screen consumer HD televisions.
Intended for use in control rooms, outside broadcast trucks, or on location shooting at live events the display is intended to be plug and play with HD or SD cameras, decks, switchers or routers connected via SDI to the viewer.
All inputs feature automatic frame re-synchronization, so you can mix and match any combination of video standards and frame rates, including NTSC, PAL, 720p, 1080i and 1080p60, all on the same display at the same time. The Blackmagic MultiView 4 HD retails for $185 (€150 / £130).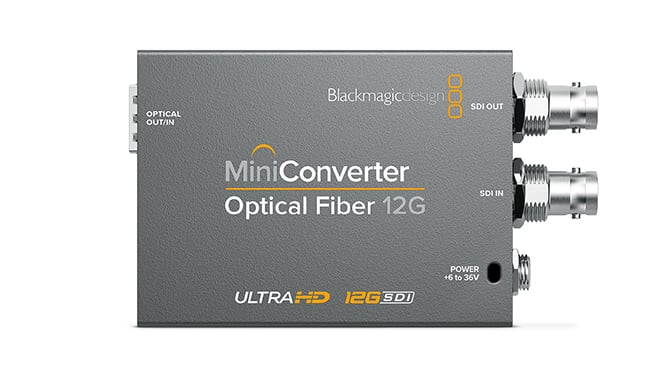 The Blackmagic Design Optical Fibre 12G-SDI converter
12G-SDI to optical fibre converter
BMD is also shipping a new bi directional 12G-SDI to optical fibre converter that lets you extend SDI connections up to 10 miles away. It extends SDI connections over massive distances by converting SDI to optical fibre and optical fibre to SDI in both directions at the same time – a useful means of increasing camera coverage at live events. It costs $155 (€125 / £109).
The company's next trick however, must be to shift all its undoubted engineering nous into connectivity solutions that work with video over IP.