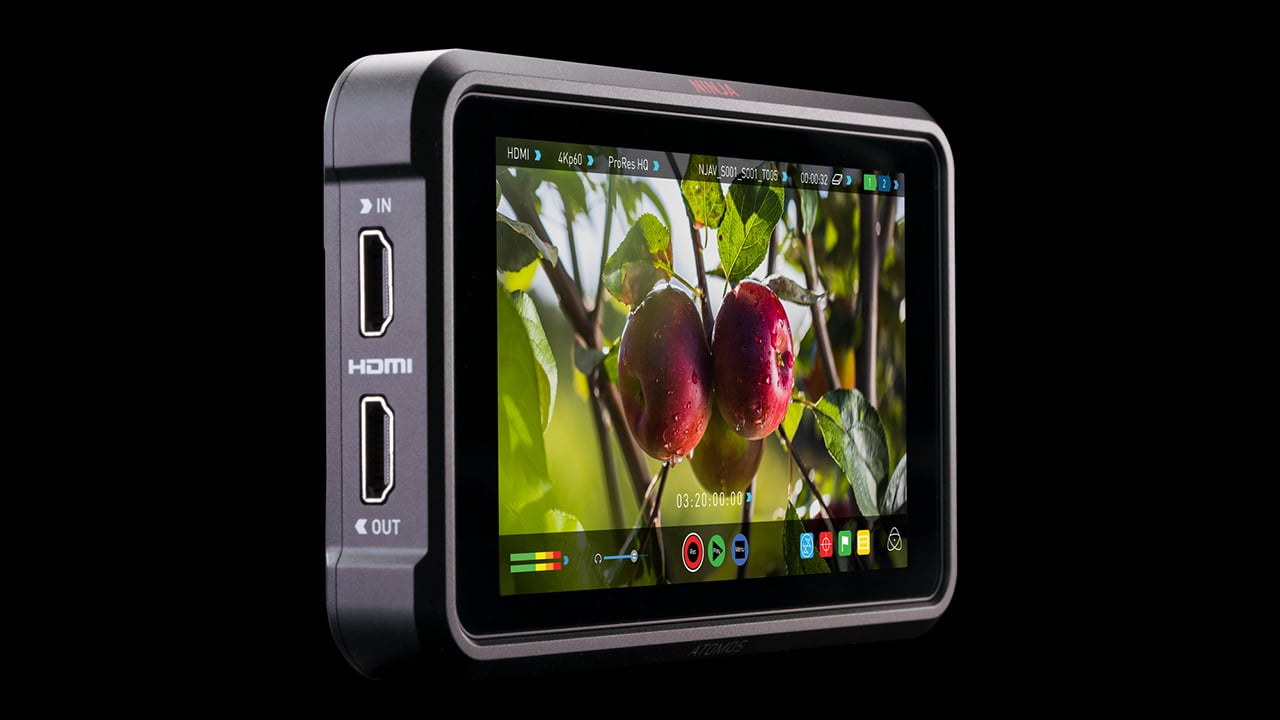 Atomos announces what could be an ideal 4K HDR monitor recorder at an affordable price for smaller camera setups.
Delivering what it says users want, Atomos has launched a more portable version of its popular monitor / recorders which manages to pack in most of the weaponry of its bigger brothers and is even primed for ProRes Raw.
The 5.2" external recorder built in an aluminium frame weighing just 320g and is 1-inch (2.5cm) thick, making it perfect, says Atomos "for mirrorless cameras, DSLRs and gaming." While we're not sure of the merits of the latter, the Ninja V certainly has the right footprint for mobility.
The Ninja V packs a punch for its small form factor. The full HD 1920×1080 display spans the full face of the recorder and is rated at 1000nits with an anti-reflection finish, which makes the unit usable even in bright sunlight.
Like the bigger Shogun Inferno the device is capable of HDR (PQ and HLG standards), via the Atom HDR engine which promises to reveal 10+ stops of dynamic range on the LCD in real time. Images are calibrated for colour accuracy on playout to HDR or SDR TV sets.
It supports recording up to 4K60p 10-bit video over HDMI 2 in either Apple ProRes or Avid DNxHR. Edit-ready ProRes and DNxHR files are recorded on SSD drives—a new media system dubbed AtomX SSDmini.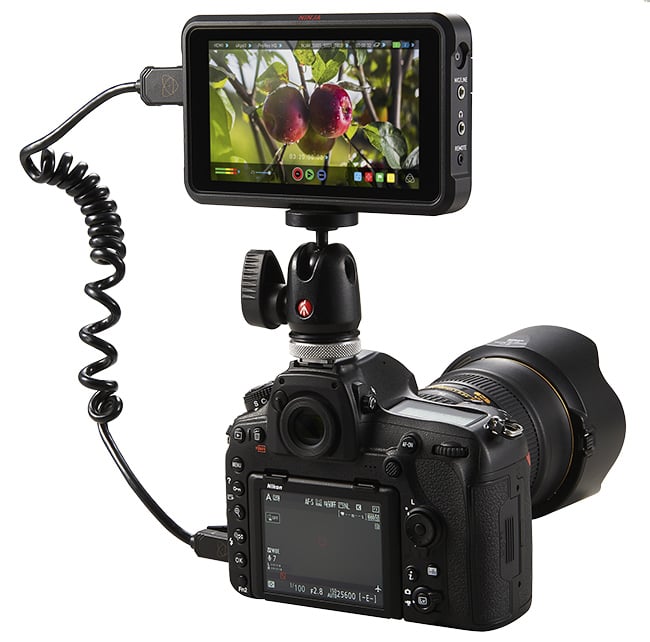 AtomX
According to Atomos, "At 7mm high and 80mm long, the new AtomX SSDmini is 20% shorter than traditional SSDs, but keeps the SATA III connector, and is backward compatible with previous Atomos drives with the help of our clever extension handle."
Atomos is partnering with Sony, Angelbird and G-Tech to make these slimline SSD drives. Ninja V also works with Master Caddy II.
For monitoring there are all the tools you'd expect such as histogram, waveform, Vector scope, RGB parade, false colour and peaking. You can apply 1-1 or 2-1 pixel magnification, and check up to eight channels of audio. Plus, you can load creative LUTs.
Audio can be input directly from the camera digitally via HDMI, or fed in analogue via a stereo 3.5mm line/mic socket - especially useful for cameras that do not have a mic input.
With a standard NP570 battery (2600 mAh) it will record 4K60p for around one hour straight; longer when used as a monitor only.
A modular expansion slot hints at future product from Atomos. This permits docking of bi-directional high speed video, audio and continuous power modules. Atomos says such modules and third party accessories, such as a wireless transmitter perhaps, will be available in the future.
All this for just $695 (€560, £490) when it ships in Q3, possibly as soon as July.
So, is there a downside? Well, the big news from Atomos at NAB was its preferred status support for Apple ProRes RAW yet this device has HDMI 2.0 connectivity only. Since no camera is as yet capable of ProRes Raw out via HDMI that may represent a handicap but it's surely only a matter of time and when it does, the Ninja is first in line.
Tags: Production