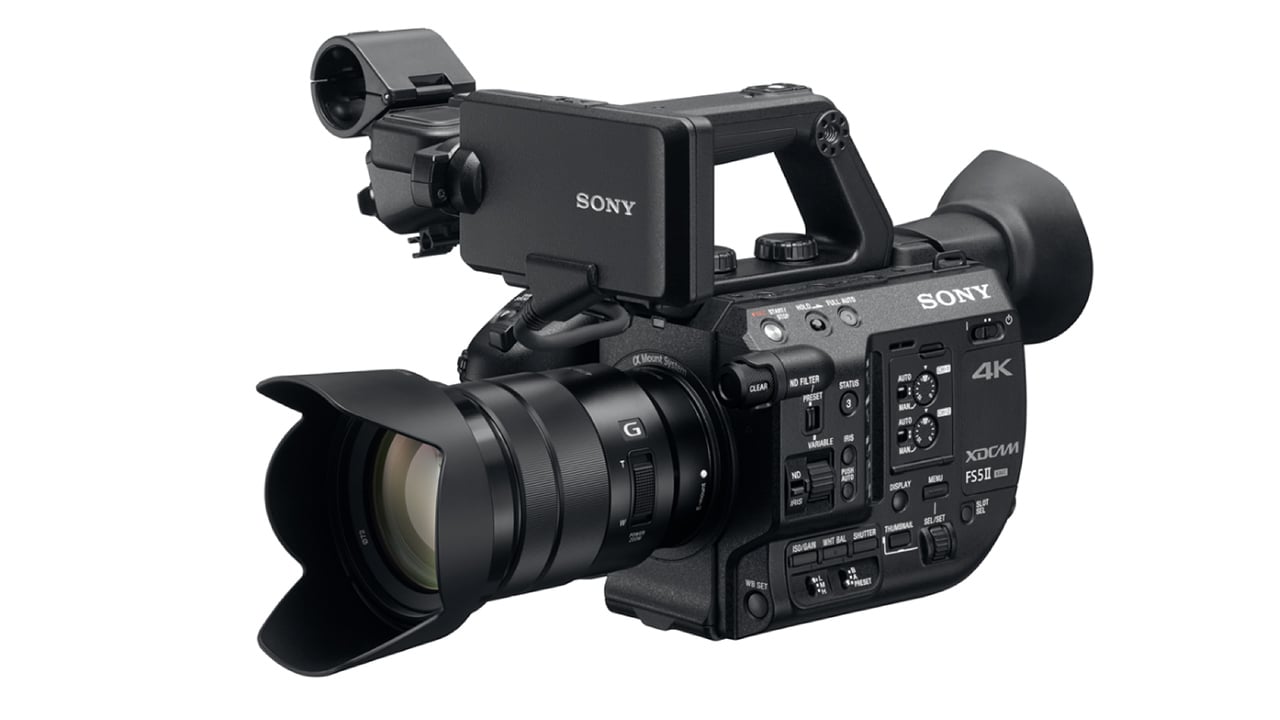 Sony upgrades it's FS5 to MK2 status with brand new colour science and high framerate capabilities, alongside announcements for additional new XDCAM cameras.
Sony has announced three new cameras to kick off its NAB product announcements.
FS5 II
The FS5 has proven itself as a versatile tool for documentary, event and indie production filmmaking. The FS5 II offers several new features and refinements over the original FS5.
First among these is a re-tuned color science leaning heavily upon the color science incorporated in the flagship Venice camera. Sony claims this will result in a more fresh and vivid look with softer tones and more accurate skin tone reproduction.
In addition it will support 4 second bursts of 4K/UHD video at 120fps or continuous 240fps in 2K RAW. These framerates and formats both require output to a compatible external recorder.
Internal SD card recording will support HD 10bit 4:2:2 at 120fps continuous or 8 seconds of 240fps.
Instant HDR workflows are supported by the addition of HLG gamma with BT.2020 gamut. The addition of these HDR options increase the number of built-in picture profiles to 10.
Shipments will start in May with the camera body priced at $4750 US and $5250 with the 18-105mm f/4 kit zoom.
PXW-Z190
The z190 is a handheld camcorder built around 3 1/3" CMOS sensors designed for the event, production and particularly news markets. It has a fixed 25x optical zoom lens and incorporates face detection autofocus as well as face registration. These are features taken from recent Sony mirrorless cameras.
The camera supports internal 4K recording up to 60p in 4:2:2 10bit as well as HD. Codecs include XAVC-L, MPEG HD, DVCAM, Proxy 1080i and MPEG2 HD422 (which requires a separate license). It can also record simultaneous 4K and HD proxy to two cards as well as having 3G-SDI output.
HDR through HLG/BT.2020 is included. With the dual MI shoe, 4 channel audio recording is possible. Recording is to SD cards. It is capable of smartphone connectivity via Content Browser Mobile. ENG users will be pleased with its networking features including streaming and FTP with include WiFi module or optional cellular modem. It also has Ethernet connections. It further supports Sony XDCAM air for inclusion in the Sony ecosystem. SLog3 is also included.
Pricing is to be announced with September, 2018 availability.
PXW-Z280
The Z280 is based upon the same body as the Z190 but with 3 ½" Exmore R CMOS sensors. Built-in lens, however is a 17x optical zoom but with full manual control rings for zoom, iris and focus.
Autofocus and wireless functions are the same as the Z190.
It adds XAVC Intra to the lists of codecs and offers SxS as well as SD card recording. SDI output is at 12g rates.
Both the Z190 and Z280 have Sony's unique variable ND controls.
The Z280 will ship in July 2018 at a price to be announced.
Sony's FS5II press release follows on the next page.
Basingstoke, UK. 8th April 2018: Sony has today expanded its Large Format Sensor category with the launch of the new XDCAM handheld camcorder FS5 II (Body: PXW-FS5M2, Lens Kit: PXW-FS5M2K). Complete with stunning 4K*¹ HDR and 120fps*² performance and RAW capabilities, the new Super 35 mm camcorder marries outstanding image quality with an ergonomic modular frame, offering content creators ultimate creative flexibility.
In addition to S-Log 2/3, the FS5 II offers Instant HDR Workflow*³ to produce HDR content for quick post-production without the need of grading*⁴.
The FS5 II is a great E-mount camcorder for interchangeable lens camera users, offering boundless creative options for web commercial, music video production, dramas, corporate & event videos and documentaries.
Ultimate handheld creative camcorder
Tuned to meet the requirements of today's content creators, the FS5 II features an all-new look with a refined picture tone to capture natural highlights, subtle, alluring and well rendered facial tones and a softer tonal look emphasizing portrayal of a person. Using the accumulated expertise of Sony's digital cinematography camera VENICE, it promises a fresh and vivid look while still retaining plenty of creative options in post-production thanks to its high performance 4K Super 35 Exmor® CMOS sensor.
Claus Pfeifer, Head of Technical Sales – Media Solutions, Sony Professional Solutions Europe explains: "When Sony develops new camera technologies we gather feedback from all ends of the production chain – from DOPs through to post production around the workflow. This camera was no exception. We've evolved and developed our hugely popular FS5 with default shooting capabilities and the FS5II is now a powerful addition to the Large Format Sensor line-up which promises even more flexibility and creative choices."
High Frame Rate shooting including 4K*¹ 120fps*² RAW output and HDR features
The FS5 II builds on Sony's heritage for image quality, delivering stunning High Frame rate shots supporting four seconds of 120fps*² in 4K*¹ and continuous 240fps*⁵ in 2K*⁶ RAW output when used in partnership with a compatible external recorder. Of course, continuous 4K 60fps*⁷ RAW output is fully supported.
On the other hand, on to an internal SD card, the camcorder also offers High Frame Rate (HFR) recording at Full HD 10bit 4:2:2 image quality and a frame rate of up to 240 fps of 8-second cache recording, allowing up to 10 x slow motion⁸. Continuous recording of 120fps in Full HD is also supported.
With an Instant HDR Workflow*³ users can now reduce time in post-production and produce high-quality HDR content quickly without the need of grading. Whilst for productions of longer lead-times, S-Log 2/3 allows the HDR image to be fine-tuned via colour grading.
Grab and Shoot Capabilities
Lightweight but robust, the FS5 II's well balanced 0.8kg body, adaptability and creative features make it a perfect fit for movie shooting, whilst its modular design makes it easy to reconfigure for any application including mounting on a gimbal or drone. Sony's unique Electronic Variable ND filter with Auto ND function covers a wide range of exposure adjustment as well as creating a wide range of shallow Depth of Field control.
Now with ten Picture Profile settings the FS5 II allows users to instantly and easily configure the camera for different shooting styles, such as cinematic content creation and online content.
The FS5 II will begin shipping across Europe in May.
For further information please visit pro.sony.eu
*¹ 4096 x 2160, *² at 60Hz mode, 100fps at 50Hz mode *³ Shooting in HLG/BT.2020 mode, *⁴ HLG/BT. 2020 compatible display required for viewing *⁵at 60Hz mode, 200fps at 50Hz mode, *⁶ 2048x1080. *⁷ 59.94p. 50fps at 50Hz mode *⁸Captures 239.76fps at HD or 2K, and playback at 23.98p.
Tags: Production