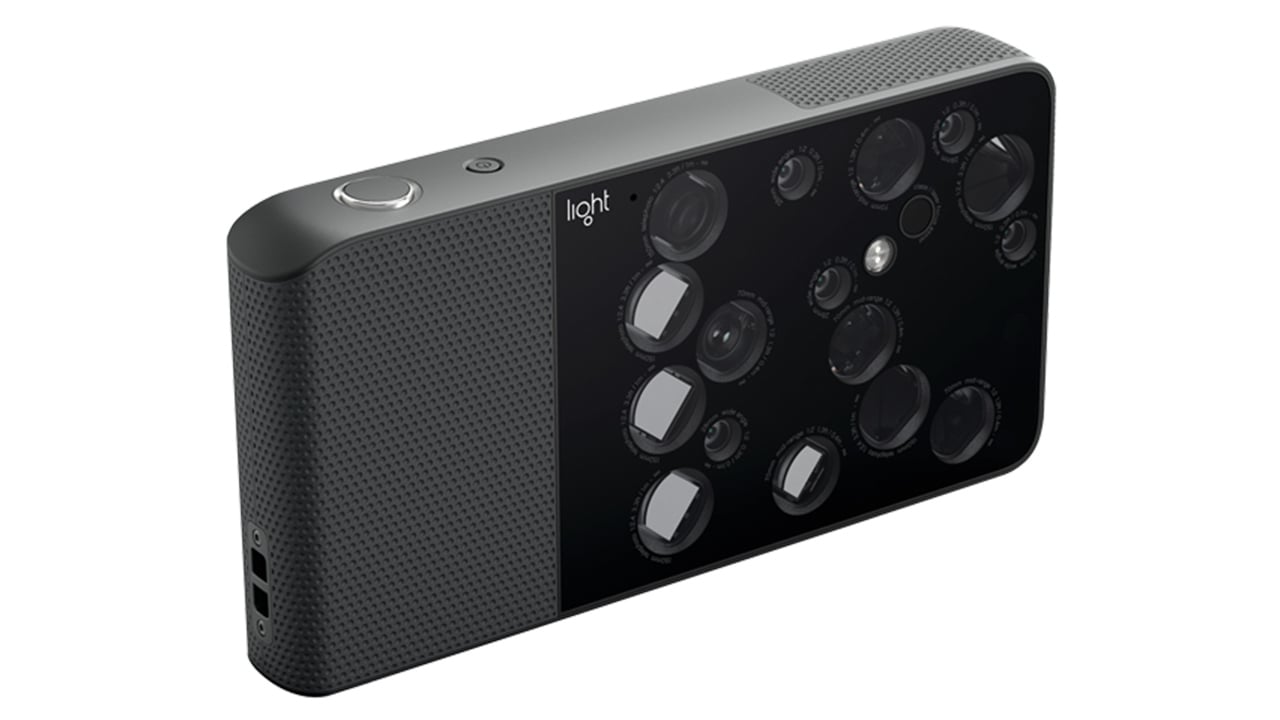 RedShark Review: More than two years ago, Light started taking preorders for its unusual camera that attempts to take computational imaging to professional levels. After a long wait, the L16 is finally shipping. Rakesh Malik takes it for a spin.
Was it worth the wait?
Computational Imaging
Computational imaging isn't new, but Light has taken it to a whole new level. Promising DSLR image quality in a cellphone-sized package is very enticing, especially for travel and adventure photographers. Several cellphones these days are using computational imaging with two cameras, Light is using 16.
Physical Design
The L16 is essentially a slab, similar to a cellphone in shape, but thicker. It has a textured grip on one side and a large glass surface over the 16 cameras, plus a 5-inch screen. The battery and memory are built-in and not user changeable, but the body is weather resistant. There is a 1/4-20 threaded hole on the bottom for a tripod and next to that are the USB-C port and data port for future accessories. Light says that it's planning to develop a gimbal that will use that port. Also along the bottom is a headphone port.
The top of the camera has a shutter release button and a lock button, the latter of which acts much like the lock button on a cellphone.
Ergonomics
For those used to SLR and mirrorless system cameras, the L16's grip is going to feel a bit anaemic. There's not much there to hold onto, but for cellphone users, it's a step up since there's at least something to hold onto other than the screen. Since the camera is so light, it works well enough after a little time to get used to it.
Since the camera uses 10 of its 13-megapixel cameras for a shot, the entire glass surface of the camera is basically active. If you accidentally stick a finger out in front of one of the active imagers, the camera will let you know with a "lens blocked" warning. As large as the taking surface is, it seems like this would happen quite often, but in practice that hasn't been the case for me.
Operation is largely touch-screen based. To focus you touch the point on the screen that you want in focus, and the L16 highlights that sport by putting a focusing reticle around it. The controls for zoom, ISO, colour balance, and shutter speed are virtual dials accessed via the touch-screen. There's a soft shutter release button in addition to the physical release button on top.
In Use
In practice, the soft controls get the job done, though not as smoothly as physical controls. I don't have to look at the controls on my Sony A7R to change the shutter speed, zoom, ISO, or aperture, and focus peaking makes it easy to see what's in focus. With the L16, I have to look at the screen for those, because there's no other sensory feedback. The virtual dials take a little bit of getting used to because the controls are virtual. The camera does provide some haptic feedback similar to what modern Android phones offer, but it's no substitute for physical controls.
The camera doesn't have focus peaking, but it does show a focus reticle indicating what the camera thinks should be the focal point of the image. It's easy to override by tapping the point you want in focus on the screen. Light also has a face detection focus mode that attempts to detect faces in the scene – it does a reasonable job. If you tap on a person's face, the camera will try to track that person. It doesn't keep up with fast action all that well yet, but it's helpful for portrait photography.
Battery Life and Storage
Since neither of these is user replaceable, it's a good thing that Light gave the camera a fairly hefty battery and 256GB of built-in memory, especially since the images are so large. The camera can't on its own process images at full resolution due to the battery drain all of that computation involves, but it's more than enough for Instagram. To get the best out of the camera you'll have to use Lumen.
In standby, the camera drains about 5% of its battery per day, but since it takes almost a full minute to boot, I prefer to just remember to plug it in once in a while to charge, especially before a trip where I plan on using it a lot. I also carry a Power Practical battery that I can use to charge it on the go.
I haven't come anywhere near to filling the internal buffer in a day's shooting, though if you use the burst mode often, your experience might be a bit different. Still, even at 170MB apiece, there's still enough capacity for around a thousand images.
An example picture from the Light L16
Lumen
This is the camera's weakest point right now. Lumen has some unique features like enabling you to choose your depth of field after capture, but it's very slow in operation and the interface is awkward. Currently, the only way to offload images from the camera is with Lumen and the images are saved in Light's proprietary image format. Lumen does, however, have the option of exporting them as DNGs. Exporting to DNG takes a long time and the depth-of-field setting is locked at that point. Light has packaged the functionality behind Lumen as an SDK so that other companies can integrate it, but until other companies see enough demand for it, adoption will likely be quite slow. I've contacted Skylum and Alien Skin and both responded favourably, though both also said that they're not seeing a lot of requests for Light support yet.
The Light proprietary images are huge, as one would expect for images containing data from ten 13-megapixel cameras. They're in the order or 170 MB apiece. After you finish selecting your depth-of-field and focus and, if necessary, retouching blend issues, you're ready to export the images. Lumen offers the option of JPG, DNG, or both, as well as several sizes. I've been using full size and DNG only.
One thing to note is that I haven't run into any stitching artefacts yet. Light's stitching works quite well in its current incarnation.
An example picture from the Light L16
Image Quality
It's a bit of a challenge to compare the resolution of the L16 to that of other cameras because the resolution varies with focal length. For example, at 35mm it produces 52-megapixel images and the resolution decreases as you zoom until, at 70mm, it jumps back up to 52 again. At 150mm, it produces only 13 megapixels.
The DNG files hold up well in post. There is plenty of colour detail to manipulate and plenty of detail. The bokeh is smooth. The dynamic range is quite good, though the camera doesn't yet have a single-shot HDR mode. Light is working on that, but the initial results are promising. Since the camera doesn't include scopes, however, nailing the highlights and shadows involves a bit of guesswork at the moment. Scopes are in Light's development queue as well.
Still, even now, the dynamic range is good. In practice, it's comparable to that of my Sony A7R. Reducing noise is one of the benefits that Light is getting out of all of the extra data that the camera captures. One result is relatively low noise in the shadows. Light's approach of blending images from multiple imagers does a good job of eliminating the noise inherent in small sensors.
The Light L16 still has some rough edges, but for a first product, it's very promising. Its image quality is very good, though the experience is somewhat marred by an software that's still rather clunky, and a fair bit of promised functionality, including 4K video recording, aren't implemented yet. The Light team has some fairly ambitious plans both for new features for the L16 and also for future cameras using a similar approach.
In the meantime, though, the Light L16 is a great camera for travel photography, since it's compact, offers image quality comparable to a modern SLR's, and is unobtrusive enough to use without intimidating people. As the software matures and as applications like Luminar and LightRoom gain support for L16 files, the workflow will mostly become easier, and the company is continuing to improve the camera's firmware.
Conclusion
The Light L16 shows the potential for computational imaging and is a solid first camera from a company new to making cameras.
The L16 is priced at £1850, and is available from the Light website.
Tags: Production