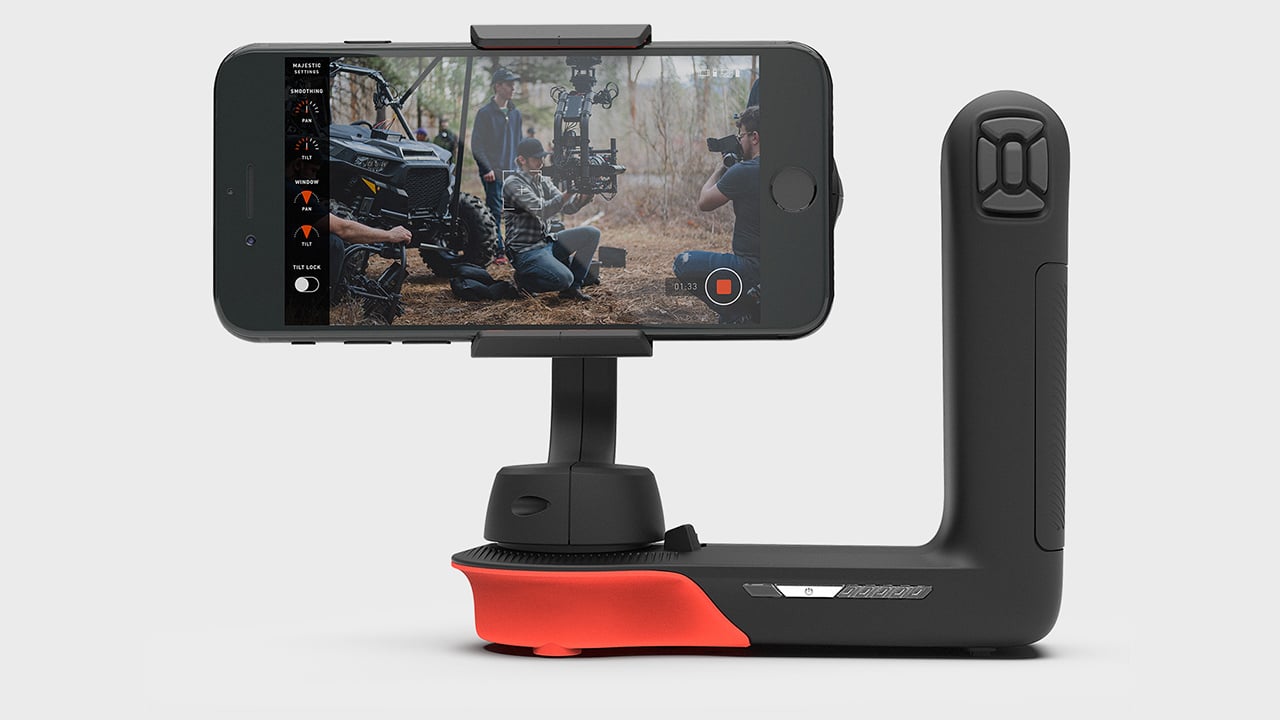 Freefly's new gimbal for smartphones promises many of the same features as its full size cousins.
Director Stephen Soderbergh has proved it can be done. Unsane is his critically acclaimed, theatrically released thriller starring Claire Foy shot by Soderbergh almost entirely on an iPhone. Now there's no excuse for anyone not to do the same, and there's even a choice of accessories to work with.
This includes mobile stabilising rigs from DJI and a new one from Freefly Systems. Freefly already makes high-end camera gear like £15,000 gimbals and £12k drones used on Hollywood movies, the Tour de France and Game of Thrones but the Movi will be just £250 when it launches later this year.
It's designed specifically for the iPhone, though, so Galaxy users best look away. It's a one-handed unit incorporating a pair of tilt and pan motors that connects to one side of the iPhone with a flat base. The other side has a grip with a physical start/stop buttons but it can be controlled via an iOS app that delivers customization options such as adjustments for slower or faster reaction times during filming.
Movi Smartphone Cinema Robot
Its full title is the Movi Smartphone Cinema Robot and here's why: It can apparently stabilise and hold itself in a single, fixed position. This precision also means it can move between multiple fixed positions, for example to create perfect time-lapse and 'Movilapse' videos. The movements can be programmed and are repeatable for retakes.
The basic shooting mode is called Majestic but there are other modes too. 'Orbit' lets you circle around a subject while remaining perfectly still. Echo Mode lets you set an A and B point in with a little trigger on the grip, and then record footage panning from the first point to the second. The speed of the pan can be dialled. You can also rotate the camera horizontally to get a wider view of the scene.
The stabilizer is about seven inches wide, a little taller than an iPhone 8 Plus, weighs just 600 grams and takes a fast-charging li-ion battery.
It communicates with your iPhone via Bluetooth and is compatible with most cases and add-on lenses.
Freefly is also positioning this for users to take advantage of Apple's Augmented Reality developers software AR Kit. For example, you can select a subject and have the Cinema Robot identify and track objects with graphical overlay.
Whether this is enough to knock established and cheaper rival DJI OSMO off its perch is another thing.
And what with the all singing and dancing video HDR and high-speed capabilities of new smart phones like the Sony XZ2 and Samsung Galaxy S9+ on release soon, an Android gimbal surely makes sense.
Visit the Movi website for more information.
Tags: Production