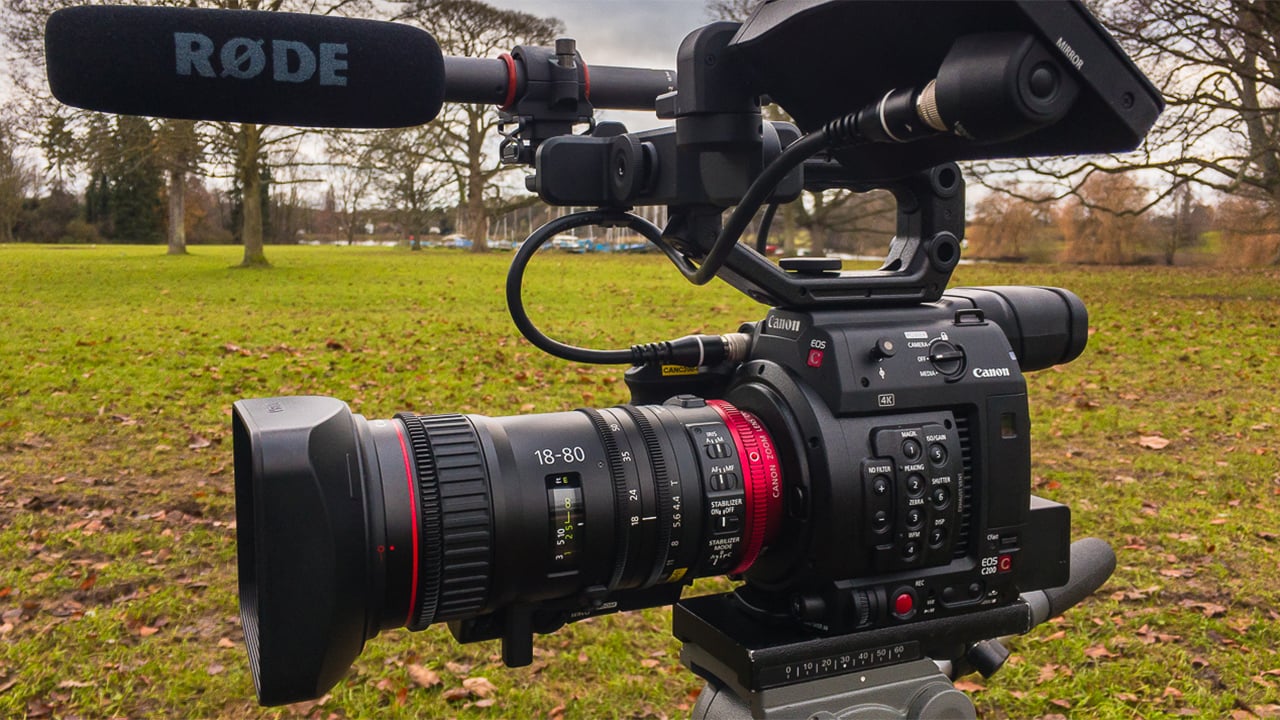 Redshark Review: We take a look at the latest in Canon's cinema camera lineup.
The C200 is Canon's attempt to bridge the gap between the lower priced C100 and the higher tier C300 cameras. The price range that these camcorders fall into, around £7000, is a sweet spot for professional camera ops and producers requiring something for day-to-day bread and butter corporate or wedding work, and sometimes even broadcast when required. As such it is a pretty tough marketplace out there with a number of different models vying for attention. Does the C200 carry enough meat on the bone to compete? Read on to find out.
Initial impressions
The C200 follows the by now traditional Canon design followed by the C100 and C300. It sort of looks like a cross between a camcorder and a stills camera, with a very short body compared to most traditional camcorders. It does look and feel well built, and solid. There is no mistaking the C200 for a consumer camera. This is a device that is built to last. To get an overall look at things I needed to 'construct' the rig. That is to say that the top handle needed bolting on, along with the microphone/LCD holders and bracket.
The top handle is a very solid affair, with multiple attachment points for any additional bits of kit you might want to attach. Assembly was fairly straightforward once I had figured out which holes required a hex bolt, and which ones needed a thumb screw. Once it was all assembled, and the supplied Canon CN-E18-80mm Cine lens was attached I could sit back and take in the rig as a whole.
Weight wise it was good to hold, and with the supplied lens it was surprisingly well balanced. I had expected it to be very front heavy, but this wasn't the case. As per the C300, it's larger sibling, all the controls were well laid out, with at least some passing resemblance to the positioning of controls on a traditional ENG type rig. Okay, so there are ND buttons rather than an ND wheel, but if you take a few minutes to familiarise yourself with the layout, it is pretty well thought out. It is nice that the buttons are a reasonable size, too.
There are no displays on the camera body itself to show audio metering etc. All telemetry information is relayed via the main LCD monitor and through the rear EVF rather than utlising a seperate side display for audio levels etc.
While the operators left hand side of the camera is dedicated to most of the general control switches and buttons and the CFast 2.0 slot, the right hand side is where you will find the side grip and XLR audio sockets. The XLR sockets are fairly well placed. Because there's no audio metering for a sound recordist to view on the side of the camera, having the XLR sockets here makes things nice and tidy. Although it does mean that for self operation it isn't so easy to see at a glance where you have the input switches set. Luckily the audio volume controls are handily on the rear left of the camera where they are much more easily accessed.
The back of the camera is also home to two SD card slots for the main recording media, which again I'll come to in a moment. So far so good, nothing strange or weird to report, everything is as it should be.
The well thought out top handle on the C200 gives plenty of mounting points for additional equipment
Power up
I plugged in one of the supplied BP A60 batteries and switched the nicely sizeable rotary switch to turn the C200 on. Start up wasn't the quickest on the block, but it was reasonably fast. The power draw of the camera is 18.5W, and with two BP A60 batteries providing around 280 minutes of power each, that should see you through over 9 hours of continuous shooting. That's pretty impressive going!
The LCD display monitor was clear and crisp as you'd expect for a modern camcorder. Focussing was pretty easy and clear to do with functions such as ISO and shutter readily accessible by way of a function button and mini-joystick control at its side. I found the monitor arm itself a little unwieldy, and if I had one main criticism of the camera it is that the display is not that easily folded away when not in use. I would prefer a defined, protective way to stow away the monitor during transport or carrying between locations or shot. The design also means that to fit into a reasonably sized camcorder bag the monitor arm and microphone assembly needs to be disassembled to fit. This isn't a deal breaker by any means, but it is a signal to all manufacturers, not just Canon, that I would prefer not to have to build or disassemble my camera every time I need to go somewhere. Deconstruction means the potential for bits to go missing.
The C200 is power efficient meaning you can do a whole days shoot on one or two batteries
Menu system and recording options
The system menus for the C200 are well laid out and easy to understand. The C200 doesn't have as many shooting modes as some other cameras, but even still the menus make things straightforward to understand. Slow motion options are on hand up to 120fps in 1080p HD mode, as well as traditional 'normal' speed modes, going up to 60p in 4K. It is notable that at 120fps the camera does not crop the sensor. A step up from the C300 in that regard.
However when going through the various recording modes I did discover an aspect that has lead to a lot of fast fingers on various forums. Although the camera can record Canon's RAW-Light codec on the CFast 2.0 slot, the resulting files are still rather large at the designated 1Gbps bitrate. A 128GB CFast 2.0 card for instance will manage 15 minutes or so of footage. At frame rates above 30P the RAW-Light function records at 10-bit colour precision, while all other frame rates are laid down with 12-bit precision.
There is only one CFast slot, which points to this camera intending the raw function for special occasions. For example when the camera is being used to support a production using, say the C300. Raw recording therefore will not be your go-to format with the C200. It is a wonderful addition and certainly adds to its capabilities, but it is not for primary usage, and currently compatibility with different NLE's is not universal, although they are gradually being updated to accommodate it.
The standard 4K recording modes on the C200 are with 8-bit 4:2:0 colour precision at 150Mbps in Long GOP format. I'll come to the picture quality in a moment, but on paper this might appear to be limiting given options available elsewhere, especially given that both the SDI and HDMI outputs are not enabled for 10-bit 4K output either. Cinema RAW-Light mode is your only way to obtain higher colour precision, with 12-bit up to 30p, while 60p is reduced to 10-bit.
Audio input controls on the Canon C200
What is it like to use?
Much more than any fancy recording format or paper specification, I have always placed a primary focus on what a camera is like to live with and use. I don't care what kind of fanciness it is capable of, if a camera is awkward to live with I will always downgrade it. After all, this is a piece of equipment that you will - hopefully - be using day-in, day-out.
In this regard the C200 is a joy. I have to admit that I have always been a bit suspicious of the form factor used in the Canon cinema video cameras. But happily the C200 works very nicely indeed. It is much smaller than the C300, and it is also lighter and smaller than one of it's nearest rivals. Yet it doesn't compromise functionality. At least not when it comes to tripod usage. None of the current line of cinema cameras from any of the manufacturers in the sub-$8,000 category is much good off the shoulder out of the box. But due to it's compact nature the C200 is easy to shift around even with the big 18-80 cinema zoom lens that was supplied along with it.
Nice big easy to press buttons adorn the side of the Canon C200
Picture quality and conclusions
With limited time with the camera, and a client shoot with it cancelled due to uncontrollable circumstances, these were not the extensive tests I had originally planned. However despite the primary recording format of the C200 being 8-bit, the results are very good. There is no good reason why it shouldn't be. The compression holds up very well with no noticeable artefacts even on fast moving subject matter such as water. Detail is also sharp, detailed, and with minimal aliasing. It is a good solid picture that you can rely upon and will not surprise you with any nasties.
Rolling shutter, as you can see from the video below, is managed superbly. It is still there, as you'd expect from a rolling shutter based sensor, but you really have to be going some to make it objectionable or even that noticeable. Noise, too, is also very well controlled with the camera producing a usable picture well up into what I would have considered dubious settings on other cameras.
Raw will clearly give you a bit more latitude and more grading ability, but as I mentioned previously this will not be your primary recording format unless the camera is being used as a secondary device, simply due to only having one CFast slot. For small scale shooters who will be using the C200 as a workhorse, it simply isn't practical to own and data wrangle from multiple 128-256GB CFast 2.0 cards over a full days shoot.
With that in mind, who is the C200 going to be suitable for?
The first type of person that the C200 will be ideal for is, as mentioned, someone who is using it as part of a larger shoot, particularly in support of the C300 where you will most likely be shooting using its raw functionality. The C200 would make a fantastic B-camera for such work, and could be used on gimbals with less fatigue than the 300, as well as having the potential for mounting on a drone with a lightweight lens.
The second is someone who is doing workhorse style jobs such as corporate, industrial, and weddings, where perhaps working faster is more important than recording 10-bit footage with extensive grading. For certain types of documentary too, the C200 would be a great bit of kit to use. The autofocus and object tracking is superb, which will make working on the fly quick and reliable. Sometimes features such as this are more important than a technical specification such as 10-bit recording. And with higher bitrate intra-frame recording coming soon, some of the limitations will be lifted. If you really do need to do serious grading or you need a shot that really demands the best quality you can, the CFast 2.0 slot on the side of the camera will always be ready and waiting for you to use it.
Is the 8-bit limitation on standard recording a deal breaker? No doubt it will be for some people. However I would ask you this, when performing bread and butter work such as the aforementioned corporate and industrial style stuff that makes up a huge proportion of video production up and down the land, how often has the 10-bit functionality of some cameras been the difference between success and failure? Probably zero. 10-bit 4K HDR displays are certainly becoming cheaper and much more ubiquitous. But as such technology becomes more predominant, as an owner of a C200 you will not be left out in the cold. For premium projects that do require such an output, you can still cater for it using the RAW-Light functionality.
The C200, then, is a camera that is portable, easy to use with well thought out controls, produces the usual wonderful Canon picture quality, and gives you high quality recording options for when you might need them. Some might say that for a similar price you could have higher framerates for slow motion and record 10-bit 4:2:2 internally. However the C200 manages 120fps without windowing, and 12-bit raw recording is available in camera without the need for a pricey external recorder. Thus the C200 has some compelling reasons to consider it. The C200 retails for around £7499.