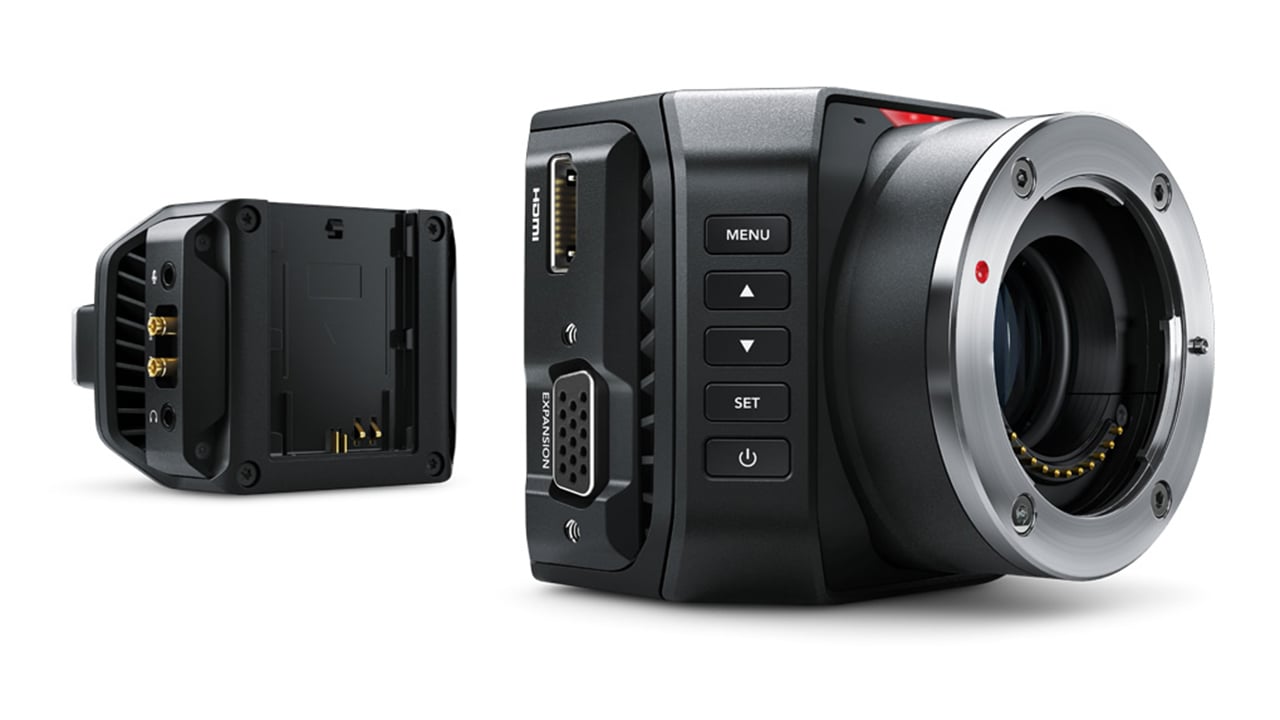 Blackmagic has released a camera update for the Micro Studio 4K and Micro Cinema cameras giving both cameras improved sensor performance, frame rates of up to 60fps at 720p and advanced remote control features.
The new higher speed frame rates are 50, 59.94 and 60 frames per second at a resolution of 1280 x 720. While the obvious application for the higher frame rates might be to shoot slow motion video there is also a need for 720p output by a lot of broadcasters because 720p is a HD broadcast standard used by some broadcasters in both Europe and the USA.
The update also improves sensor performance and increases the exposure sensitivity, so it's a bit like getting a free sensor upgrade through the power of software. Blackmagic claim that if you upgrade to the new firmware you will get a full 2 stops of extra sensitivity with the cameras. The range of the gain setting has been increased and can now be set from -12dB to +12dB. ATEM will need a new software update to access the full range of new gain settings via the Blackmagic SDI Control Protocol.
The Micro Studio Camera 4K now has the ability to output 12-bit raw camera sensor data via an SDI cable. Potentially this would enable you to perform advanced colour grade style processing on the live video output from equipment further down the chain. Something would have to be created to support that capability however and it seems most likely that it will find support in outboard recorders first.
There are also added camera control protocols. Support for PTZ communication via VISCA is available through the Blackmagic Micro Studio Camera 4K expansion port and PTZ commands are now also supported in the Blackmagic SDI Control Protocol. This improved remote control capability means you can move the camera, adjust settings and start or stop recording from any location, even if it is mounted in a tight space or hard to reach place. In addition, new commands have been added to change the frame rate, toggle auto focus and to record via S.Bus. The camera now passes through remote record commands as both SDI and HDMI recording triggers so that outboard recorders will stop and start recording as the camera itself starts and stops recording. A tally indicator has been added to the HDMI display overlay.
The Blackmagic Micro Cinema Camera also gets new features in the new firmware Update. In addition to the record start and stop triggering on the HDMI output, there is also added support for HDMI timecode. It also has the same abilities to change frame rate settings, codec settings and toggle auto focus via S.Bus that have been added to the Micro Studio Camera 4K with this update.
The Blackmagic Camera 4.7 Update is available right now as a free download.
Tags: Production