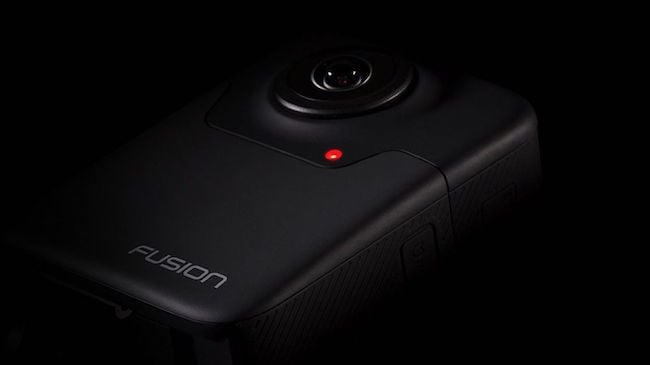 GoPros are synonymous with 360-degree capture, but now the company is hoping to replace the various kludged together rigs in circulation with an elegant all in one solution. And, as talk of 'over-capture' illustrates, it doesn't think this approach is just confined to 360 shoots either. You may never need to worry about framing your subject again.
GoPro has revealed it is developing a new spherical camera, which it is calling Fusion. It is able to catch 360-degree footage at 30fps in 5.2K resolution. It's been described as like having six GoPro cameras fused into one, capturing footage from all directions around the camera. The camera is small and wearable and it is expected to be compatible with a lot of existing GoPro accessories. This fact alone makes it very interesting, as attempts to produce 360-degree cameras can sometimes result in large unwieldy balls of lenses and sensors.
GoPro is promoting the camera as a technology that will allow you to defer decisions about framing and even camera angles till post production. "Imagine never having to worry about framing your subject," writes GoPro product manager Jess Foley. GoPro is calling this concept "OverCapture".
It's easy to see how this makes sense in the context of action cameras where things happen quickly and it's often not clear exactly what is going to happen. If you can capture it all and then decide later which of the bits are important, you can probably manage to avoid missing the important and unexpected stuff.
Although the camera shoots at 5.2K resolution, the idea is that the output will be at 1080p, but perhaps the software will allow reframing to other resolutions too, we will have to wait and see.
This is quite a radically new camera for GoPro who seems to have been somewhat the victim of its own success, having saturated the market with its cameras and finding itself in a contracting market, which has even led to recent layoffs at the company. The new camera could be just what they need to revitalise the company.
I have a feeling that, when this camera arrives, it is going to get used in ways unexpected and unintended in addition to the "OverCapture" concept. The camera seems to be something really quite different and that is sure to fire up people's imaginations.
One problem is that, at present, the camera is still unavailable and GoPro is inviting people to apply to join in a pilot program. So, there is much about the camera and technology that is presently unknown. However, GoPro has released a video shot with the Fusion camera that you can check out below.
GoPro is planning a limited commercial release of Fusion by the end of 2017. There is presently no indication of what the price will be.