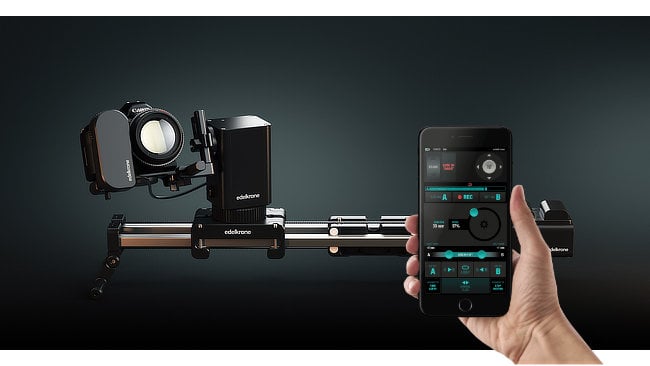 Billed as the world's smartest and most portable 4-axis motion control system, Edelkrone's new slider control system looks like a very interesting piece of gear to keep an eye out for when it ships next month.
Most of us will be familiar with camera sliders. Viewed equally as one of the best inventions for cameras or the born evil, depending on your prevailing viewpoint, they have allowed a new generation of cinematographers to obtain shots with movement in the most portable and accessible of ways.
Edelkrone's SliderPlus X has been redesigned but still offers the same advantages of the company's previous model; namely the slider having a clever mechanical design that makes the rails slide across the base as it moves. In short, this means the slider is capable of movement almost twice the length of the physical rails, thus making it an incredibly compact and portable system. The SliderPlus X includes two sets of rails allowing up to 2.9ft of camera travel.
But, and here is the interesting bit, then there's the Motion Kit. This appears to be one heck of a useful bit of kit. Effectively, this is a motion control rig that affixes to the SliderPlus X and takes control over not only the camera angle but also focus control and slider movement, catering for camera loads of up to 3.2kg.
The rig allows the user to literally set the start and end points, and to lock focus wherever you need. One of the most interesting parts is that if you want, you can also guide the camera manually through the movements required. The system will remember them and repeat them as many times as you like. You could, for example, start with the camera facing up at a ceiling object as the camera moves on the slider, then whip pan down to another focus point on the table, continuing the movement. All with the Motion Kit handling the focus and smooth transitions.
This can all be controlled from an iOS mobile app, including one developed for the Apple Watch. Ease in/out points can be adjusted on a viewable time slider, the speed set and adjusted, among many other things. You can even tell it to take a shot as a Timelapse. You can also control speed manually through the shot, which might be handy for tracking — for example — an actor who moves slightly differently in each take. Edelkrone is promising even more advanced functions through updates in the future.
Of course, it remains to be seen how this all works in practice, but this certainly looks to be an extremely useful bit of gear to keep an eye out for.
The Motion Kit is slated for a May release at an introductory price of $2799, while the SliderPlus X is $999.