In part two of his review, Ned Soltz gives us his final verdict on the Blackmagic Ursa Mini 4.6K.
See part one of Ned's review here
My review camera is now back at Blackmagic and now I'll add a few additional observations about my shooting experience with the camera.
Handling the Ursa Mini 4.6K
From an erogonomic point of view, the camera with Blackmagic EVF, a Dionic 90 battery, and relatively heavy Zeiss Otus and Milvus lenses handled nicely. The shoulder pad is adjustable a couple of inches front to back to help balance. We both agreed that the handle was too short and was difficult to adjust. No doubt there will be third-party replacements, so I do not consider this in any way a drawback of the camera.
The EVF was a delight. With the camera's front SDI and power ports, it was easy to connect the EVF and the design of sliding into the top handle made for easy adjustment. It looks good and feels sturdy. We were impressed with the diopter marks on the eyepiece, which really is great for multiple users. At $1495, it compares favorably to any EVF on the market in that price range and perhaps even more expensive.
LUT considerations
The camera itself (and EVF by extension) lacks the ability to import custom LUTs. You are left with a choice of Film (meaning Log) or Video (meaning LUT-ed) viewing. The viewing LUT is a little contrasty for my taste and this carries over into the Ursa 4.6K LUT that is included with DaVinci Resolve 12.2.3. The higher contrast made focusing easy and I see the LUT only as a starting point, so adjustments can always be made to contrast, if a lower contrast look is what you desire.
Sticking points
We do note, however, a design flaw when shooting the camera shoulder mounted. The camera menu button is located inside the flip out viewscreen on the camera side. There is no way to access the menu from outside the camera, despite transport buttons on the outside of the viewscreen. There are two function buttons outside, but these currently do not work. It would be helpful to be able access camera menus, either from the outside of the camera or from the EVF.
In our shooting scenario of varying lighting, we needed to change color temperature and camera ISO. If on a support, that would be simple. However, handheld required putting the camera down to open the door, press the menu key and making the selections. It was a little awkward and slowed down shooting.
Fringe comments
A number of users on various web forums seem to be reporting magenta edge fringing. Several examples have been posted, in fact. I must say that I did not experience any magenta fringing in a day-long shoot recording both ProRes 422 as well as RAW 3:1. Additionally, I tested by shooting a white beadboard illuminated by a Cineo Matchbox Remote Phosphor light with a 5600K panel. I used a Canon 24-105 lens at varying focal lengths, recording a few seconds in each codec and framerate the camera offered. Again, I could not reproduce the magenta. I do not deny that some users have experienced it. I did not.
I shot together with DP and educator Jem Schofield in a super small NYC restaurant handheld under mixed lighting conditions. I also shot some random outdoor scenes.
Weight, storage and image
The light weight (about 5 pounds or less than 2.5kg) of the body allowed the full kit to be easily hung onto an Easy Rig Mini. In this case, we moved the camera hand-grip to the rosette on the dumb side of the camera body.
The Lexar 3600x 256gb cards we used performed well. There wasn't a single dropped frame in 3:1 RAW and, in subsequent tests, the cards sustained the necessary data rate for errorless uncompressed CinemaDNG RAW.
I wish the camera had 4 tracks of audio. It does have two built-in cardioid microphones, as well as two XLR inputs, but only one set of inputs can be active at a time. Four audio channels would help establish its position as a cinema camera.
We shot indoors existing light at both ISO 400 and ISO 800. The ISO 800 footage was clean. Blackmagic does rate the camera at ISO 800. As a rule of thumb, I take manufacturers' ratings as optimistic and my personal feeling (this is not scientific, just the gut of experience) puts the camera at 400. Outdoor shooting on a partly-cloudy day was at ISO 200 still stopped down to at least f/11 or more. There is no in-camera ND system and we were forced to travel light to accommodate the postage stamp sized location. So, neither of us carried a mattebox and ND filters.
Final thoughts
Bottom line – my impressions with ten glorious days with the Ursa Mini 4.6K EF mount:
This is a lot of camera for $5000. Keep in mind that kitting it out with the EVF ($1495), baseplate/top handle/extension handle ($395), V mount battery plate ($95 – I added my own V to Gold Mount adapter to the back), plus a couple of 256gb CFast 2 cards (no less than $650 for the Lexar 3600x), we're talking an $8500 or so investment, not to mention glass and batteries. Still, the handheld ergonomics are good, making it a good reality, documentary, cinema verité camera. Mounted on tripod, slider or jib it is solid for interview or cinema work.
Still, it is the images that sell this camera and make you overlook the minor design flaws. Skin tones are rich and organic. The color science in general makes it much easier than other cameras to achieve a pleasing image. The dynamic range may or may not be the advertised 15 stops, but a wide dynamic range is apparent just looking at its footage.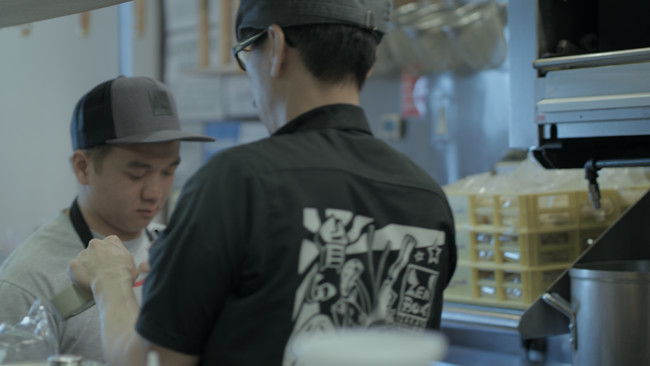 Raw ungraded still from the Blackmagic Ursa Mini 4.6K
Raw graded still from the Blackmagic Ursa Mini 4.6K
Raw graded still from the Blackmagic Ursa Mini 4.6K
If there indeed is a significant magenta tinge issue, I am confident that Blackmagic will address the issue in a firmware update. I would simply advise users to be cognizant of that potential issue and to notify Blackmagic if the problem rears its magenta head.
No camera handles every scenario. This is not a camera for fast action and fast moves owing to the rolling shutter. It is not a camera for extreme low light situations. It is a camera that can deliver excellent results for a relatively low investment.
The Ursa Mini 4.6K represents a great example of how excellent cinematographic equipment can be accessible to a wide range of filmmakers. I heartily recommend it.
See part one of Ned's review here
Appreciation to Ramen Lab, New York, for opening their kitchen to our shoot.
Tags: Production