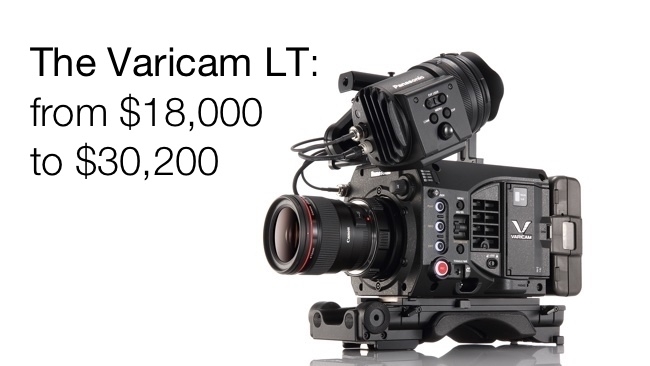 As the release of Panasonic's VariCam LT approaches, Panasonic has announced that the camera will be available in four packages. It's also reduced the price of expressP2 cards.
The Basic Camera kit will include the camera body, top handle, control panel and control panel mounting bracket, and will all retail for a suggested list price of $18,000.
The VariCam LT-VF adds the OLED viewfinder with kit and is priced at $23,700.
The VariCam LT-PRO adds a shoulder mount, operating grip and user-changeable PL mount for a suggested list price of $27,550.
And finally, the VariCam LT-PROEX includes all of the above, adds two 256GB expressP2 card and an expressP2 card reader, and comes in at $30,200.
Most significant for both VariCam 35 and HS users, as well as potential purchasers of the VariCAM LT, is a 40% price reduction in the cost of 256GB expressP2 cards, which will now sell for $1200. It's an improvement, yes, but they are still roughly double the price of CFast 2.0, for example.
The VariCam LT is still slated for delivery around the end of March. UK and European prices so far have looked to be roughly in line with exchange rates, but we'll update that as more information becomes available.