In the second part of his article on qualifying to be a legally recognised drone pilot in the UK, Simon Wyndham details his experiences of flight school and the challenges of manual flight.
In the first part of this article I covered my time in ground school, learning about air law and a multitude of other things that would, if I passed the exam, allow me to go on to take my Operations Evaluation.
I took my Operations Evaluation test along with my colleague with ICARUS, run by Matt Williams from Aerial Motion Pictures.
Matt is an ex RAF Puma helicopter pilot, and we had heard that the service and education that he provided were excellent. Further more it appeared that people who had attended his courses were getting their Permissions For Aerial Work processed much, much faster than with rival companies.
We had a lot to do before we undertook our operations test. While we had our Inspire 1s to fly we needed a gamut of other equipment including more batteries, safety cones, two-way radios, anemometers, VFR maps, first aid kits, fire extinguishers, take-off/landing mat, and portable equipment benches/tables to name a few.
We also had to sort out our embarkation and pre-flight checklists, site survey forms, and aircraft/pilot/battery logs. This is important to consider for those wishing to hire in somebody to perform aerial work, and is also important for existing pilots to consider when setting their rates. The job can start a few days before any flights take place, with pre-site surveys, weather forecasting, risk assessments and the like to be completed beforehand. Operating legally and competently as a commercial UAV pilot is quite an involved process.
Ops manual
But I digress. One final thing we had to sort out were our Operations Manuals and insurance. The Operations Manual will be your biggest headache. This is a large document covering all operations processes for your company regarding the procedures, maintenance, and logging of your flights. It is unique to your company and will take a fair bit of work to complete effectively. It is also a work in progress and will have to be constantly updated to reflect how you operate. Completion of this is legally mandatory before the CAA will issue you with a PFAW.
All this done, we finally got to attend our Operations Evaluation. After my previous failure at my first attempt at the ground school exam I wasn't going to be counting my chickens! Once we arrived we went in to see Matt, who gave us a friendly welcome and debriefed us on what we should expect to be asked to do. Introductions over we headed to the field where the test would take place and got ourselves set up.
The Operations Evaluation is set up partly like a real job with the examiner acting as the client. We had to prepare site surveys, weather forecasts, and risk assessments as per a live job. Once we were on site we needed to carry out an on-site survey. Our field contained several factors that could cause issues, including nearby flocks of birds, and a herd of cattle. The latter being quite a friendly bunch, although they did seem rather curious about our take-off area!
Once we were happy with our findings we headed back to the office to deliver our briefing to the 'client'. This included going through roles and responsibilities and emergency procedures among other things. Formalities out of the way we could now head back out to the flight area and start the rather more fun business of assembling our aircraft and flying them!
We ran through our checklists and I opted to take my flight test first. After taking off and confirming I had control of the aircraft I was told to head out towards a nearby solar farm to take some still photographs. My colleague Paul took the role of the camera operator and observer. Roles we later swapped when Paul took his own flight test.
ATTI Mode
After completing some basic manoeuvres Matt threw in a few emergency situations that we had to deal with. We seemed to cope pretty well with these. One thing I should mention at this point is that the weather was less than ideal, with some pretty strong and random gusts of wind. Once Matt was happy with how we dealt with emergencies he then asked me to switch my aircraft to ATTI mode.
ATTI mode is the closest a quadcopter comes to manual control. The GPS positioning system is turned off and the pilot is in full control of the position of the aircraft. I was then asked to hover my Inspire 1 in various orientations, having to hold the aircraft steady in one position manually. No mean feat when the wind is trying to knock your aircraft all over the place!
If you haven't practiced much in ATTI mode, please take this into consideration. There's no hiding behind GPS modes. I was asked to hover in the various positions for a not insubstantial amount of time. It was good practice and I hoped that I had coped okay for a pass. Matt then asked me to perform a few more manoeuvres including an oval race car circuit. Again much more tricky than it sounds in high winds!
Most professional UAV pilots always fly in ATTI mode, with GPS only being used if they need to hold position at altitude for a steady shot. It is a valuable skill to learn if you wish to become a precision operator, and to be honest it's a much more fun and satisfying way to fly. You'll substantially reduce the risk of a flyaway too.
After we had both completed our flight tests, complete with a cow incursion, we breathed a sigh of relief and awaited to hear Matts' evaluation of our skills. Thankfully it was all positive and we discovered that we had passed with flying colours! We can now, finally, apply to the CAA for our PFAW.
It has been a long journey and my advice to anyone considering this route is to really think about what you want to do. Finally I am within sight of my final goal. It has cost a lot of money, and now it is time to earn it all back!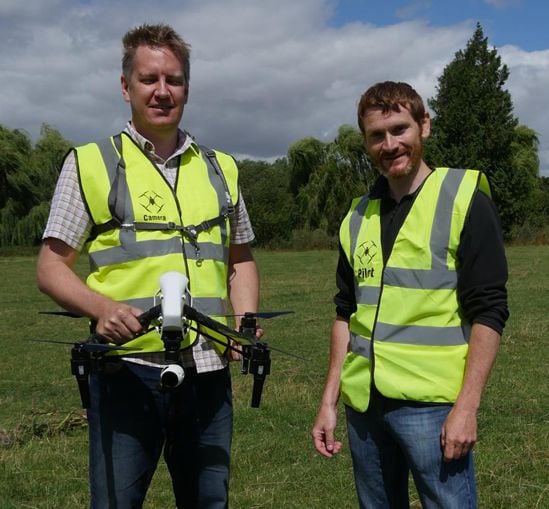 Tags: Production