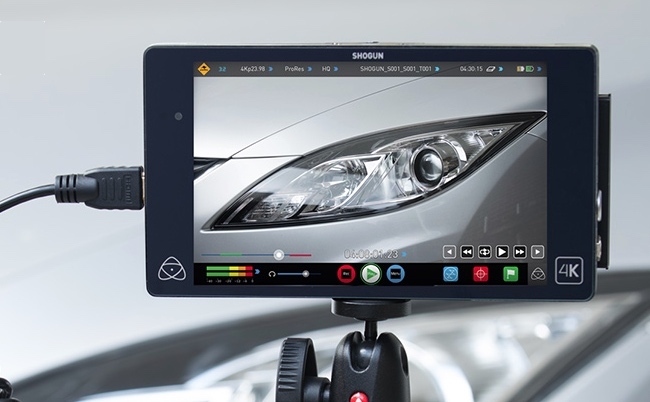 Enter the Shogun: Announced to great fanfare at NAB earlier this year and shown in production ready form at IBC, the Atomos Shogun 4K recorder has now completed its first production run and is shipping.
As ever such announcements have to ship with their own caveat that, just because the first models have rolled off the production line, it doesn't mean worldwide availability is assured. Nevertheless it's good to know that there are units out there in the wild now and we're looking forward to seeing how they perform.
"The wait is over for thousands of video professionals," commented Jeromy Young CEO and co-founder of Atomos. "Having been at the factory personally to oversee the production and testing of our first Shogun units, I can assure the world that the final product will exceed already high expectations."
Which is going to be a task all in itself. Lest we forget the Shogun trails with it a long list of world's firsts in the 4K/HD monitor/recorder space including, according to Atomos:
First 4K/HD monitor/recorder with 12G SDI & 4K HDMI connections
First 4K/HD monitor/recorder with SDI to HDMI & HDMI to SDI conversion
First 4K/HD monitor/recorder with a truly pro monitor pixel density in excess of 300ppi
First 4K/HD monitor/recorder with balanced XLR audio in/out
The company is also making lots of very pleased noises about its AtomOS6-powered UI, which it says keeps every feature within one-touch range. These include iseful stuff such as 2:1 zoom and a host of layout improvements designed to make camera setup, shot setup and work in post production easier.
And as soon as we get our hands on one, we'll let you know our thoughts.