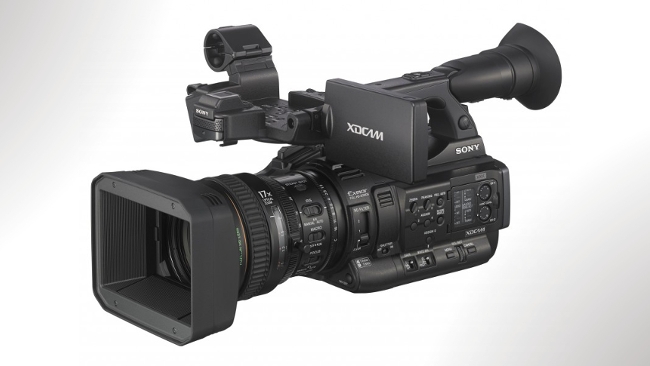 Hot on the heels of Sony's announcement of the rather impressive looking PXW-FS7 comes the PXW-X200, the official successor to the PMW-200.
Sony is really moving fast to bring its range of cameras bang up-to-date to keep up with demand. Unlike the previous PXW models, the PXW-X200 incorporates a ½" Exmor™ 3MOS sensor. This points to the sensor being improved, and in fact, a different model to the one that is currently in the PMW-200.
The X200 keeps the design philosophy of the previous PMW models in that it uses a manual lens with a 29.3-499 mm focal length range with iris/zoom/focus rings on the barrel with end stops. Recording codecs include 10-bit XAVC at up to 112 Mbps in intraframe mode, and 50/35/25 Mbps in Long GOP modes. The camera can also record in traditional 8-bit MPEG HD422 flavour too at 50 Mbps as well as 420 modes at 35/25 Mbps bitrates.
One of the main additions to the the X200 is the inclusion of wireless streaming and file transfer functionality. Remote control and monitoring can take place from a tablet or smart phone with the addition of the included IFU-WLM3 module, while wireless file transfers can take place during shooting. An additional plug in LTE cellular data module will be made available at a later date.
While this new model will not be setting the world alight in the same way as the FS7, it is none the less a worthwhile upgrade of the PMW-200, to make the camera more appealing to news organisations who have gone for JVC's recent offerings due to their wireless capabilities. The previous PMW models have always been reliable and high quality workhorses, and the X200 looks to carry on that tradition. I would not be at all surprised to see a similar upgrade to the PMW-300 in the very near future, too.
Check out the full press release on Page Two!
Full Press Release
Park Ridge, N.J., Sept. 12, 2014 – Sony's new addition to its XDCAM range of solid state memory camcorders, the PXW-X200, incorporates an improved 1/2 inch-type Exmor™ 3CMOS sensor, a new 17x zoom lens and XAVC Intra/Long GOP recording with 4:2:2 10-bit sampling. The successor to Sony's PMW-200, the new camcorder has a 1/2 inch-type 3CMOS sensor and MPEG HD422 (50 Mbps) recording capability.
The results are high quality Full HD resolution pictures without pixel interpolation, high sensitivity, low noise and a wide dynamic range, optimized for professionals shooting under challenging lighting conditions in applications ranging from news-gathering, broadcast productions and documentaries to events, weddings, education, corporate productions and more.
Sony's PXW-X200 XDCAM Camcorder
The PXW-X200 also includes new wireless/NFC (Near Field Communication) functions, live streaming audio and video, two SxS media card slots for Simultaneous Recording, a Multi-Interface (MI) Shoe, and GPS data recording, all of which will become active through a firmware update early next year.
PXW-X200 – Key Features:
High Picture Quality from 1/2 inch-type Exmor™ 3CMOS Sensor: The PXW-X200 incorporates three 1/2 inch-type Exmor™ CMOS sensors that produce Full HD resolution (1920×1080) without pixel interpolation. The image sensor boasts 2.07 million effective pixels, and combines with Sony's digital signal processing to achieve a wide dynamic range, low noise (S/N ratio of 58dB), and high sensitivity of F12 at 1080/59.94i and F13 at 1080/50i.
New 17x Zoom Lens with Manual Control Rings: The camcorder's 17x zoom lens is compact, despite adopting its build to the 1/2 inch-type imager. The lens can zoom from 29.3 mm to 499 mm (35 mm equivalent). The lens also has three manual Zoom/Focus/Iris independent control rings, each with a physical end-stop and absolute markings for precise adjustments by the user.
Wireless Streamingand File Transfer Functions: The PXW-X200 comes equipped with wireless functions including one-touch NFC capability. By attaching the supplied IFU-WLM3 wireless module, Remote Control and Monitoring functions can be performed from a tablet or smartphone using the Content Browser Mobile application. By connecting with internet routers, proxy or high-resolution files can be transferred to a cloud server to begin the editing process even while the location shoot is still in progress.
A live streaming function will be made available through a future firmware upgrade, and the addition of an LTE USB module (sold separately) will enable live video and audio to be remotely streamed, watched, and recorded.
Multi-Format Support Including High Quality XAVC and MPEG HD422: The camcorder efficiently compresses Full HD (1920×1080) resolution images using MPEG-4 AVC/H.264, and records XAVC using 4:2:2 10-bit sampling. In XAVC, the user can select Intra-frame compression at a maximum of 112 Mbps or high-efficiency Long GOP compression at 50/35/25 Mbps. In addition to XAVC Intra/Long GOP, the PXW-X200 also records in MPEG HD422 (50Mbps), MPEG HD420 (35/25 Mbps), MPEG IMX (50 Mbps) and DV (25 Mbps) formats. Four channels of 24-bit 48 kHz LPCM audio are recorded in XAVC and MPEG HD422, while four channels of 16-bit 48 kHz LPCM are recorded in MPEG HD420. The multi-format support is useful for different shooting applications and can be adjusted to meet users' requirements. Operating on globally-established XDCAM HD422 or XAVC formats allows the PXW-X200 to deliver high-speed, intuitive workflows along with greater operational convenience.
Features of the PXW-X200 Ideal for Professionals
Multi-Interface (MI) Shoe for connecting accessories like the optional HVL-LBPC video light or UWP-D series wireless microphone system without XLR cables and battery pack
GPS data recording as Metadata
3G-SDI Interface for 1080/59.94P, 50P output
Slow & Quick Motion function (available for XAVC Intra, XAVC Long GOP, MPEG HD422 & MPEG HD420)
Picture Profile function (Gamma, Matrix, etc)
Genlock In, Time Code In/Out for multi-camera shooting
Focus Assist functions (Color Peaking, MF Assist, One-push AF, Focus Magnification)
3.5-type QHD (RGB 960×540) LCD Panel
The PXW-X200 is planned to be available in November 2014, with suggested list pricing to be announced.
Tags: Production