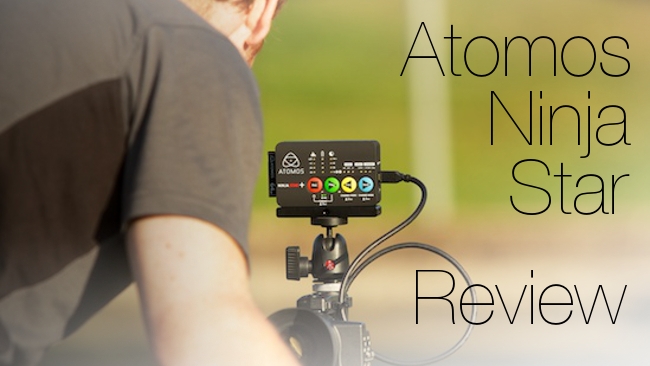 Symon Wyndham has been testing with a new compact HDMI recorder from Atomos, the Ninja Star, for the past week, and gives us his opinion.
External recording devices have always been a cost effective way of making the most of the signal that your camera can output. These days, as manufacturers still insist on comparatively low bitrates and colour bit-depth for internal recording on many of their cameras, an external device is often the only way to capture a picture that will stand up well to heavy grading and to obtain maximum image quality.
Many readers will be familiar with the Odyssey 7Q device, which allows cameras such as the Sony FS700 to record high frame rate raw video, as well as 4K. It is this sort of expansion that can drastically increase the useful working lifespan of your gear. Not least because such a device can be used on any new camera that you purchase. They are a good long term investment.
External recorders do create a bit of additional faff and bulk to the camera setup, but often their disadvantages are outweighed by the positives that you get in return (assuming your camera outputs a useful signal, of course).
A solid little Ninja
For the last week or so, I have been using the new Ninja Star from Atomos. The Star is intended as a way for users to obtain high quality Prores recording on a budget, and in a compact form. Intended users are those who may be using the latest generation of DSLRs, which now output a useful HDMI signal.
The Ninja Star is certainly small, coming in at 95x60mm, with a depth of 25mm and a weight of 230g while the battery is attached. It's a dinky little thing and easy to transport in the rather nice case that it is supplied in.
The Ninja Star feels solid to hold, made as it is from aircraft grade aluminum. At the top and bottom of the body, there are mounting holes for the supplied metal bracket, which is used for attaching to various camera mounts and cheese plates.
Instant satisfaction
My first impressions were very good. The Ninja Star powered on instantly, and after a couple of short seconds as it checks the card, it is good to go. The control buttons are large and well-defined, meaning that it will be easy to operate outside on a cold day with gloves. All basic operations are illustrated well on the device itself, reducing the need to refer to the manual.
Indoors, the lights on the device that display battery level, rough remaining recording time on the card, audio levels, and active recording light, are bright and well-defined. In bright conditions outdoors however, they can be a bit tricky to see. I often had to shade the recording light with my hand to make sure that it was active.
In use, the device didn't miss a beat. There is a choice between Prores HQ, 422, and LT. It can also perform a live conversion from 60i to 24p or from interlacing to progressive scan, if required.
The Ninja Star can record four channels of audio, two from the HDMI source and an additional two from a line-in analogue audio input. Holding down the 'Play' button for a couple of seconds switches the audio display between the monitoring of these two types of input.
With certain cameras, the Star can recognise the record trigger and start recording automatically. With other cameras, you will have to manually press the record button. It will also record frame accurate embedded time code from selected cameras from various manufacturers. You will need to check your camera for compatibility in this regard.
A few quibbles
Connection to the device is via Micro HDMI, so you will need to be sure that you have the relevant cable in order to get things up and running. I am not a fan of HDMI connections, but for the type of camera that the Ninja Star is aimed at, this is the standard form of output. If I had a suggestion for any future versions of the device, it would be to recess the HDMI input by a decent amount to reduce the possibility of cables being wrenched off, possibly causing damage. Maybe Atomos themselves could design and supply a lockable HDMI connection to the device.
This is my greatest concern with such devices, the cable being accidentally disconnected mid recording, or otherwise snapped off.
While the Ninja Star did perform flawlessly, I was still nervous about whether I was actually recording anything. This is because the Star doesn't have any on board video monitoring. As a result, if you want to be confident, you will need a monitor to hook up to the HDMI output of the Ninja Star to be sure of what you are getting. This does somewhat negate the purpose of having such a compact device. However, for such a low-priced and small device, we can't expect everything. Maybe in lieu of a display, it would be an idea to have some additional indication lights to confirm what type of picture signal the device is currently receiving.
I have not yet got the device to work with my GoPro Hero3 Black Edition. I am presuming that this is the fault of my GoPro rather than the Ninja Star, and I am currently trying to track down the issue.
In use, the Ninja Star and the CFast card become very hot. This is normal for operation and is nothing to be concerned about. The aluminum body of the Star doubles as a heat sink.
Run, run, run
Power options are numerous with the Ninja Star, being supplied with a single battery that is capable of around five hours run time, a car adaptor so that you can charge batteries with your car's cigar lighter, and the charger itself. Additional adaptors for running off D-Tap connections and AC power are also available.
With regard to the claim of battery run-time, I have no reason to disagree with the published specs. During my testing, I didn't come close to running out of power on any of my shoots. This is a very power efficient piece of gear.
The Ninja Star is a device that people with newer DSLRs or drones such as the Phantom, and who only need a maximum of 1080p resolution, will be delighted with. It is compact, inexpensive and robust.
Some users may be put off by the use of CFast cards, however Atomos themselves are now manufacturing affordable cards, and as more and more devices use them, this technology will very quickly become the go-to standard, thus bringing prices down even further across the board. As it is, the Ninja Star works just fine with CFast 1.0, so initial costs are fairly low.
The verdict
All in all, I was impressed with the Ninja Star. True, it won't satisfy those who want 4K raw recording, but that is not the market that this device is intended for. The Ninja Star will be great for recording high quality HD in remote places, where lightness and compactness are the order of the day, and for those who want to get the most out of their cameras at a low cost.
Tags: Production