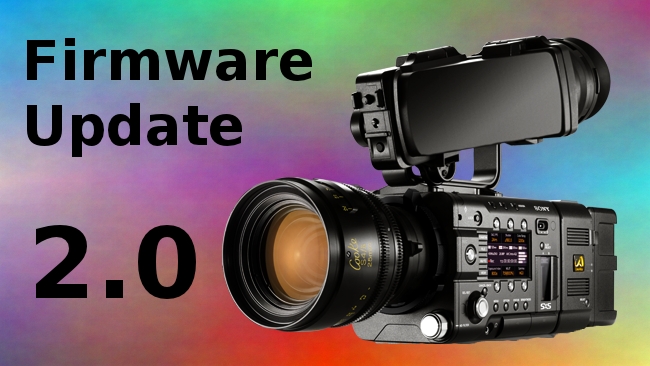 Sony have released a major new firmware update for the F5 and F55 cameras. Version 2.0 of the firmware finally sorts out the high frame rate features of the cameras and thus is a must have
New high speed features include up to 240fps in 2K Raw mode (using the AXS-R5 recorder) and up to 120fps in 1080p via the XAVC mode (to SxS Pro cards in the camera itself). We are edging very close now to the 180fps that has been promised as the top speed for the F5 in XAVC mode and it's great to be able to shoot at up to 120fps (a very useful speed) in the economical XAVC mode in the mean time.
The new firmware also brings us 2K recording (2048x1080p) in XAVC mode too. 2K recording to SxS Pro cards is go! I have the suspicion that most people will stick with good old versatile 1920x1080p however.
Perhaps to help with the addition of the extra high speed modes there is a mysterious but useful sounding "Flicker Reduce" feature which sounds like it reduces the amount of flicker when shooting with out of sync lighting. Sony describe it as: "Flicker reduce function can reduce flicker that occurs when shooting under the indoor lighting and something." Make of that what you will.
There is also the addition of support for the new XQD memory card format! Yes I know that you have been dying to work with yet another memory card format for some time, so rest assured that the "new F" cameras will be able to record onto both SxS and XQD card formats with the aid of this update.
A feature
Despite the fact that this is a major version number firmware release (2.0), there is apparently still some quirkiness, including a feature where the menu scroll wheel sometimes becomes painfully slow while switching between system frequencies or the recording format. If you are not keen on this intermittent feature it can be turned off by rebooting the camera. This should help camera operators who are prone to not taking enough breaks while shooting.
I have a good feeling about release 2.1 (or possibly 2.11?) as I tend to find that's usually a good number in terms of software update numerology. In the mean time, version 2.0 brings us a lot closer to making the F55/F5 firmware as good as the nicely designed hardware it is running on.
Tags: Production