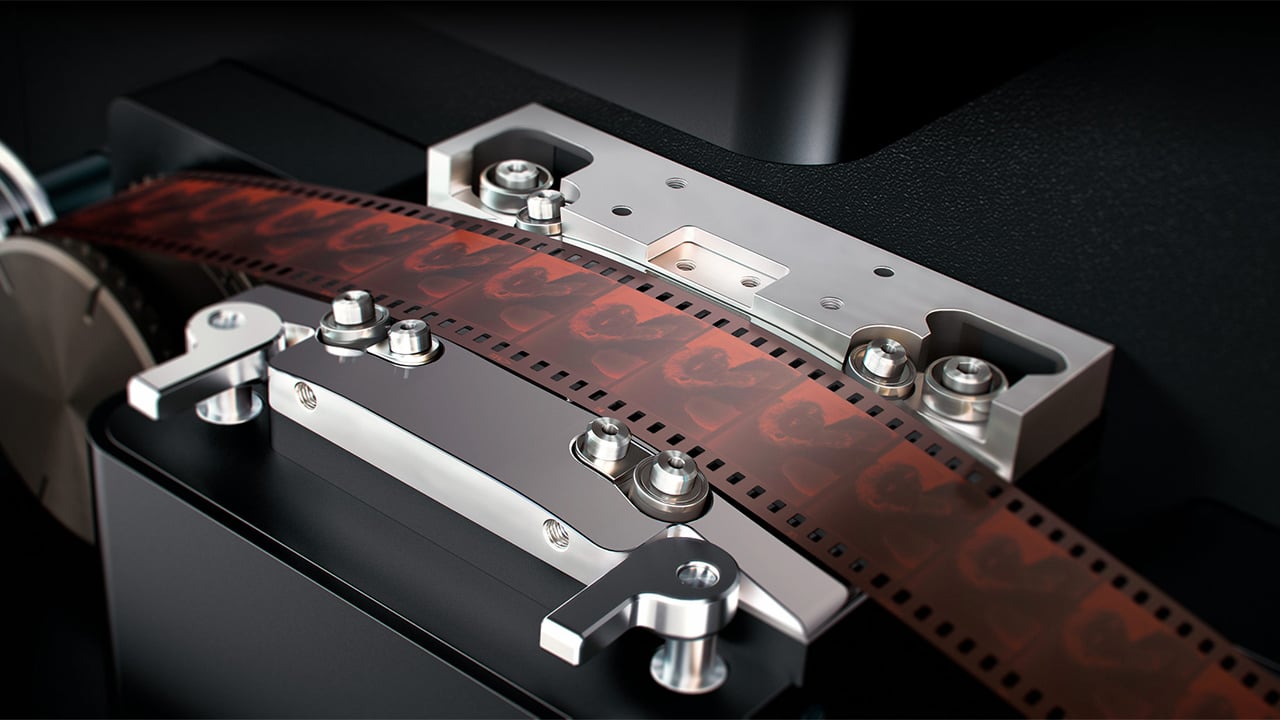 Film isn't dead. It just needs a new digital life. Enter the Cintel Scanner 2 from Blackmagic Design. A 35mm film scanner that can scan 4K HDR files directly into Resolve 15.
Film has traditionally been a mechanical technology and many film telecine products have suffered from poor quality electronics that required experienced engineers to keep them working. The latest version of Blackmagic Design's Cintel scanner, its second since purchasing the tech in 2012, changes all that though. In typical BMD fashion, the new scanner features a Thunderbolt 3 connection for a massive 40 Gb/s speed which is capable of transferring negative film into digital 4K, HDR film scanning tools directly into Resolve (thrown in for free of course), and a design so smart and lean it can even be hung on your wall.
With consumers purchasing large 55-inch plus Ultra HD tellies in massive quantities right now, the demand for UHD content has never been greater and will become a boom market in the next few years. Blackmagic Design wants to stimulate the conversion of 35mm film, stored in vaults worldwide, into UHD features and TV shows.
As we've come to expect from the company, ease of install and use has become part of the aesthetic. Simply connect the scanner to your Mac OS X workstation and install the software for realtime scanning. That means you don't need a dedicated engineer to operate and support the scanner. Don't have a Mac OS X device? Use the external PCIe interface to connect to Windows and Linux based computers lacking Thunderbolt 3.
The new Cintel Scanner 2 from Blackmagic Design
The Scanner 2 has a 'skid plate' that enables HDR film scanning of 35mm film via DaVinci Resolve 15 Studio which comes as part of the package. Support for 16mm HDR scanning will be added in a future update.
Like BMD's first iteration this scanner is constructed using aircraft design techniques for a stiff and vibration free main deck so you get smooth film handling.
It will be available in June for sub-$30k (€21,000 / £24k).
For an extra $3500 (€2833) the addition of a Audio and KeyKode Reader lets you capture high quality audio along with information from the film such as unique ID numbers for each film frame so they can be matched with the corresponding video timecode.
Blackmagic can trace the heritage of the scanner all the way back to one of the founders of TV, John Logie Baird. It was Baird's Cinema Television company which in the 1950's devised the first flying spot telecine installed at the BBC's Lime Grove Studios even though Logie Baird himself wasn't around to see this having suffered a fatal heart attack in 1946. Soon after it was sold to J Arthur Rank and renamed Rank Cintel. The company's remains eventually found itself in the hands of the entrepreneurial Australian engineer Grant Petty – who has resuscitated its legacy.
Tags: Post & VFX