Panasonic has announced its smallest cinema camera yet, the DC-BGH1. Taking a box style form factor it's extremely lightweight and versatile for both cinema and multi-camera studios.

Panasonic LUMIX DC-BGH1. Image: Panasonic.
The new LUMIX DC-BGH1 is a departure from the usual type of camera that you might be used to seeing from the Panasonic LUMIX division. But it is certainly an interesting choice of design, bearing a not too dissimilar appearance to the box style cameras of Z-Cam.
This type of form factor does offer some useful advantages when it comes to configurability and the ability to use it in a wide variety of circumstances as I'll come to in a moment. But first here's the lowdown on its features and specs.

Panasonic's new DC-BGH1 will be adaptable for many different uses. Image: Panasonic.
LUMIX DC-BGH1 main features
The new camera is in fact based around the LUMIX GH5S, a camera with which it shares its CMOS sensor. As you will have likely guessed from that, the BGH1 is a Micro Four Thirds based device and also inherits the dual native ISO feature from the GH5S. This changes depending on the picture profile you are using, so in Standard, Cinelike D2 and Cinelike V2 modes this is at ISO160 and ISO800, in V-Log it's ISO400 and ISO2000, while in HLG it's ISO320 and ISO1600.
Micro Four Thirds is a good choice of sensor and lens format for a camera like this because it will very likely be used in restricted spaces, such as inside cars, or as a remote wildlife camera. Micro Four Thirds allows for a huge variety of lens choice as well as lens mount adaptability.
As a refresher, the sensor has 10.28 active megapixels and has a dimension of 17.3 x 13mm. The camera can capture a claimed dynamic range of 13-stops.
The BGH1 is a camera that is designed as a base for you to configure around. For example, while it comes with a mains power supply a battery is optional, even though there is a battery slot to take AG-VBR59, AG-VBR89, and AG-VBR118 batteries.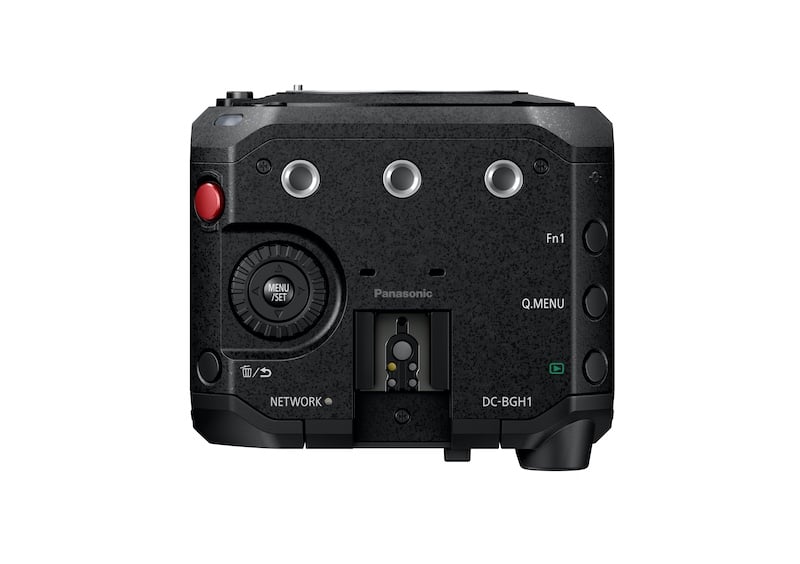 Recording formats
The new camera has two SD card slots, while on-board encoding can be selected between H.264 and H.265(HEVC). With the DMW-XLR1 audio input device attached, audio can be recorded with 96KHz, 24-bit fidelity. 4K recording is possible at up to 60p, while 240fps is possible in FHD mode.
Just as with the GH5S video can be recorded in V-log with with either 8-bit LongGOP encoding, or with a higher bitrate 10-bit ALL-intra codec. This includes a dedicated 24.00Hz mode for true integer 24p recording in either 4K UHD or DCI.

Panasonic DC-BGH1 rear view. Image: Panasonic.
Autofocus
The autofocus on the DC-BGH1 is contrast based with Panasonic's DFD technology. It features face, eye, body and animal detection and is based upon the latest iteration of the system that we see in the new DC-S5 camera. The device does not feature any form of IBIS system, so for stabilisation it will use the optical systems built into some lenses.
As a box style camera it does not feature any form of information display or monitor. It can output 3G-SDI or HDMI to your external monitor or recorder of choice. This keeps weight and power consumption down for those who are using the device remotely for either recording or monitoring from a separate location.
For multi-camera setups the BGH1 has TC IN/OUT with Rec Run and Free Run options with Drop Frame and Non-Drop Frame available. Timecode can be output over both HDMI and SDI. Genlock In is also provided for. Further, colour bars and 1kHz test tone output is also available.

The DC-BGH1 in handheld configuration. Image: Panasonic.
One omission that the camera does have is that there is no built in filter wheel, nor electronic ND. It is slightly puzzling why this is the case because the MFT style mount does in fact have enough room as we've seen on Panasonic's previous cameras such as the AF-100. So you will still need to use a manual VND or fixed filters.
As it stands the BGH1 would appear to have a number of different applications, from drone mounting, remote operation, through to building it into a mini cinema camera style rig. One of its main attractions is the idea of full control for multiple camera setups and streaming over IP. Both camera control and power supply are possible in one single LAN cable. This complies with PoE+ protocols. By utilising the LUMIX tether app up to 12 cameras can be controlled. An SDK kit for camera control will be made available for free.
Monitoring can also take place with a smartphone, and by using LUMIX Synch settings can be copied remotely between cameras.
The DC-BGH1 will be available from mid-November at a price of £1899.99 (US$1999.95 ex taxes). We currently have our hands on the camera for testing, and we'll be bringing you our full review in due course.