Nikon has announced a new Z Mount 400mm telephoto lens, further adding to the company's mirrorless cameras range of glass.
New lens mounts are all very well, but they are only a strong as the choice of glass that users have for them. Until now the more conventional focal lengths have been the focus of most releases, but now it's the turn of the longer telephoto ranges. Alongside an earlier announcement of the development of a super telephoto 800mm model, Nikon has further obliged users with the announcement a new 400mm f/2.8 lens, which is sure to find use in a range of niches.
Now, aside from the question of whether we really need f/2.8 in a long telephoto lens, this is clearly a high performer. Priced at £13,499.00 UK | €15,499.00, this isn't going to be something your average Jessops customer will be buying.
The lens features a built in teleconverter, which gives an additional 160mm to the focal length, bolstering it to 560mm. It's also the first Z lens to feature the company's Silky Swift Voice Coil Motor (VCM) focusing system with optical ABS encoder. That'll be company speak for "this lens has very fast focussing". There's also a new Meso Amorphous Coat, which the company claims gives the lens the best anti-reflective properties in the company's history. Interestingly the design has been made such that the centre of gravity is biased towards the rear of the lens, making it easier to balance when mounted to the camera body.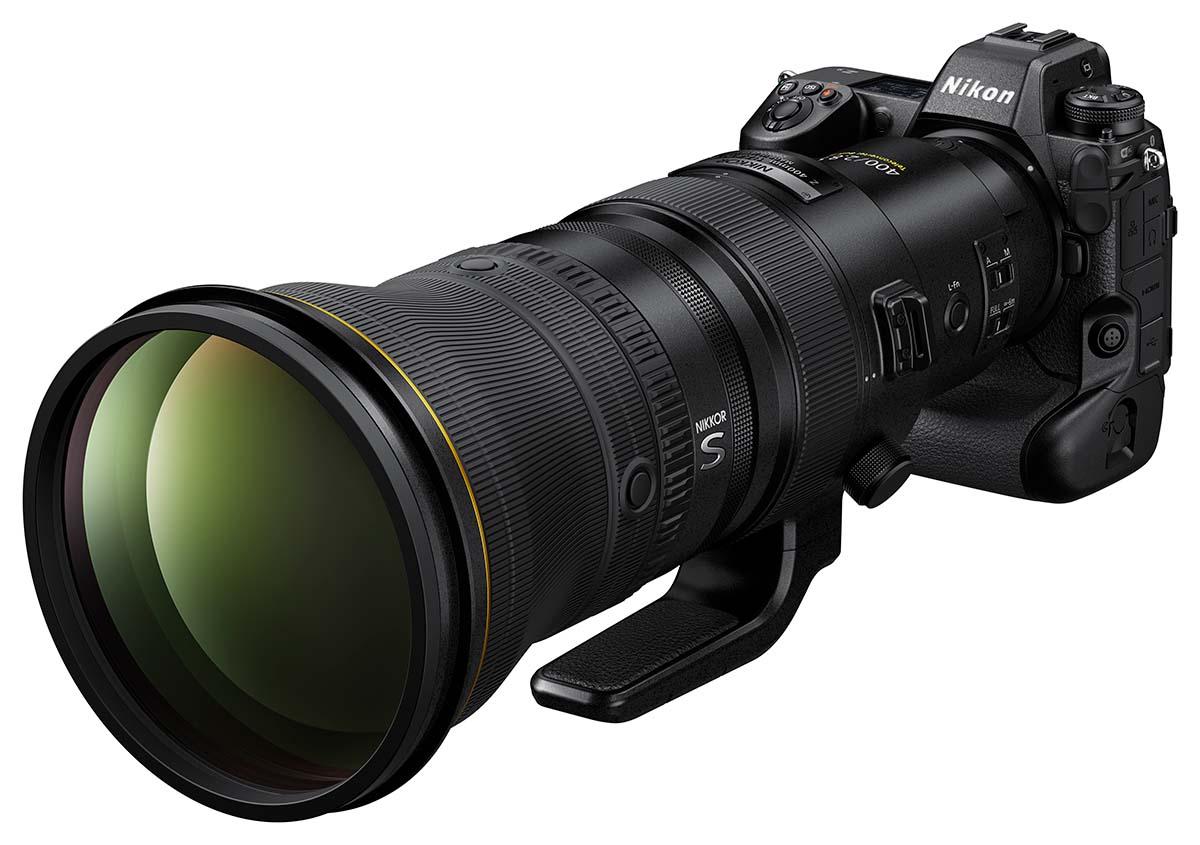 NIKKOR Z 400mm f/2.8 TC VR S main features
Built-in 1.4x teleconverter

Extends the reach to 560 mm

Silky Swift VCM focusing system with optical ABS encoder

f/2.8 maximum aperture

In-lens Vibration Reduction for

a 5.5-stop advantage. Synchro VR is available when the lens is paired with a Z 9

Meso Amorphous Coat c

ombats ghosting and flare

by

eliminating incidental light coming from both diagonal and vertical directions.

ED, Super ED, and SR glass elements

Sealing around all moving parts and Nikon's fluorine coating
Centre of gravity is towards the rear for more stable operation
Functions can be assigned to the FN ring, as well as to the Fn buttons, focus ring, and silent control ring. Save focus distances to the memory-set button.
Removable tripod foot allows optimum balance when the lens is attached to a tripod. A Kensington Security Slot helps keep the lens safe.
Integrated filter slot
Supports use of the Z TELECONVERTER TC-1.4x and Z TELECONVERTER TC-2.0x
The lens is scheduled for release some time in the spring.
Tags: Production News Lenses