DJI's highly popular all-in-one Pocket gimbal has just received a solid upgrade, with a larger sensor and 64MP photos topping the new feature list.

The DJI Pocket 2. Image: DJI.
DJI's Pocket gimbal was a winner for the company due to its incredibly small size and rock steady stabilisation. The Pocket 2 takes that successful formula and expands it with a new 1/1.7-inch sensor vs the 1/2.3-inch in the older model and 64MP stills, a very significant upgrade over the previous model's 12MP. Furthermore the device weighs in at an ultra-light 117 grams.
DJI Pocket 2 recording modes
The Pocket 2 can record up to 60p in 4K and 2.7K modes, whilst up to 240fps slow motion is available in 1080p modes. All are recorded in H.264 compression at up to 100Mbps. Meanwhile battery life is specified for up to 140 minutes when recording 24fps 1080p video. The new camera is also capable of recording HDR video.
The usual special modes are here, such as AI object and person tracking, Motionlapse, 3x3 panorama, and nightspot. The Pocket 2 is equipped with four microphones to capture surround sound audio, with the mic focus changing depending on the direction in which the camera is facing. The camera features an 8x digital zoom, and it adjusts audio in conjunction with this, giving what DJI care calling "Audio Zoom". Users can also adjust the mic recording pattern to suit the scene that they are recording. Autofocus is taken care of by way of a hybrid contrast detection and phase detection system to ensure accurate and fast tracking.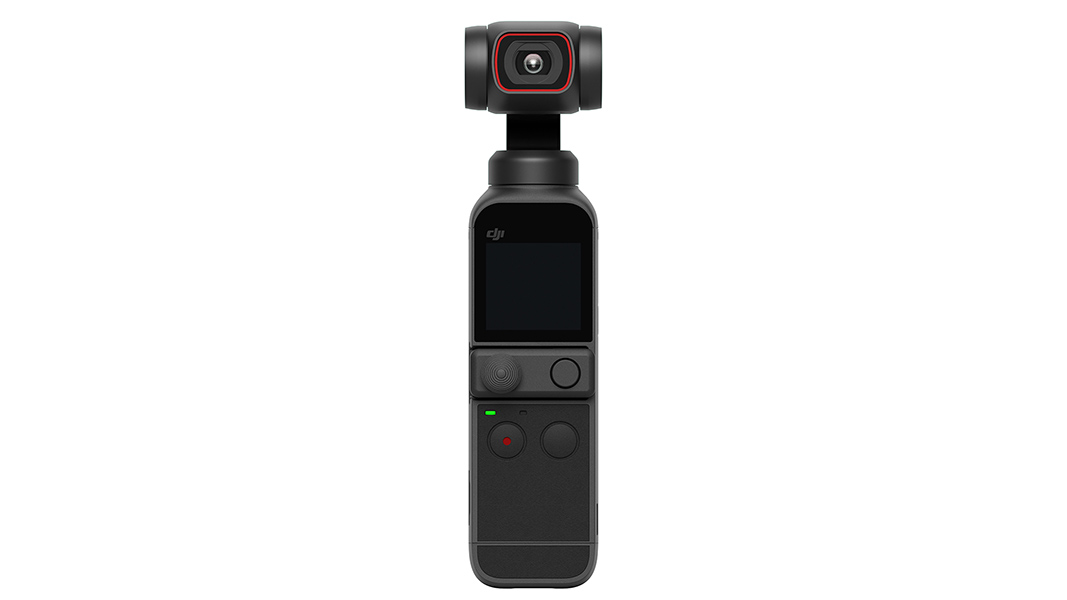 DJI has made a number of accessories to go with the new device including a waterproof case, a mini-control stick, a wireless mic system, a wide angle lens, and a phone clip amongst a number of others.
Another aspect of the Pocket 2 that DJI is keen to emphasise is the one second start-up time. This is because the company wants to associate the camera with being ready at a moment's notice. As power-up times go, one second is very fast indeed, and should be commended.
The question you would be forgiven for asking is whether a gimbal type pocket camera is still relevant in a world of 360 cameras and GoPros with HyperSmooth stabilisation? After all, the Pocket 2 isn't waterproof without an additional case, and the gimbal is something that is more exposed to dust and damage.
However, the reality is that gimbals still offer a few distinct advantages over the latest breed of action cameras and 360 cameras that all process their stabilisation electronically. To begin with, gimbal stabilisation means that there's no cropping in on the picture to get a steadier image. Gimbals also produce rock steady stabilisation without ghosting issues in low light situations. It also has advantages for stills, particularly obtaining long shutter speeds in low light situations.
Then there's the AI tracking, which can be done in-camera without the need to do it in post as you would with a 360 camera. So a micro-gimbal like this still has a lot of practical uses even as many others are going the electronic route.
The DJI Pocket 2 is available now for £339 (US$349). The only question left on many a person's lips is, when will we see an OSMO Action 2?