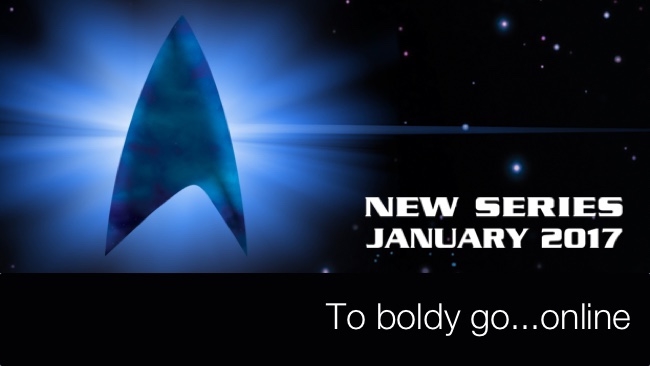 CBS Television Studios announced yesterday it will launch a totally new Star Trek television series in January 2017, but only one episode will actually air on the network.
According to CBS microsite startrek.com, the new series will 'blast off' with a special preview broadcast on the CBS Television Network sometime at the start of 2017. But even before the geekosphere could get into the happy work of guessing how the new series will fit into the Federation timeline, there was the small matter of it not actually appearing on the network.
"The premiere episode and all subsequent first-run episodes will then be available exclusively in the United States on CBS All Access, the Network's digital subscription video on demand and live streaming service."
Basically, CBS is sticking it on its OTT service in the US, which costs viewers an extra $5.99 a month. This is a huge move. Consumers have become used to paying for the likes of Amazon Prime or Netflix original series, but to see such a high-profile property disappear behind a paywall — even a fairly low one by pay-TV standards — is a bit of a shock and showcases the extent to which the industry is changing.
Indeed, researcher Parks Associates estimates that the majority (58%) of broadband households in the US now use at least one OTT video service on a monthly basis, while more than 25% of households use two or more services. Netflix dominates (48%), followed by Hulu and Amazon Prime (19% and 17% respectively)
CBS obviously wants a share of that action.
What's worse for US viewers, the show will also be distributed concurrently for television and multiple platforms around the world by CBS Studios International — meaning that it may possibly be free to air in other countries (or, more likely in the UK at least, be on Sky).
This simultaneous distribution is becoming more and more common as broadcasters look to muzzle the guns of increasingly sophisticated content piracy, which seems to be moving away from BitTorrent and file-sharing to live streaming protocols.
However to date success has been limited. HBO and its affiliates have pioneered this approach with Game of Thrones, but as stats collated by Torrent Freak indicate, the last episode of Season 5 swiftly became the single most pirated TV show ever, chalking up 1.5 million downloads in the first eight hours since broadcast and, at one point, a record 258,131 people were sharing a single torrent.
Will the new Star Trek break records as well? Will it provide CBS All Access with the boost in the market that CBS is obviously looking for? The key to success will be making it very, very good indeed (we reckon that 4K shooting is a given, HDR is extremely likely too). When the likes of Amazon are willing to spend £160m on 36 episodes of Top Gear you know that competition for viewer's eyeballs is becoming seriously fierce, and that applies whether you're the Federation or not.