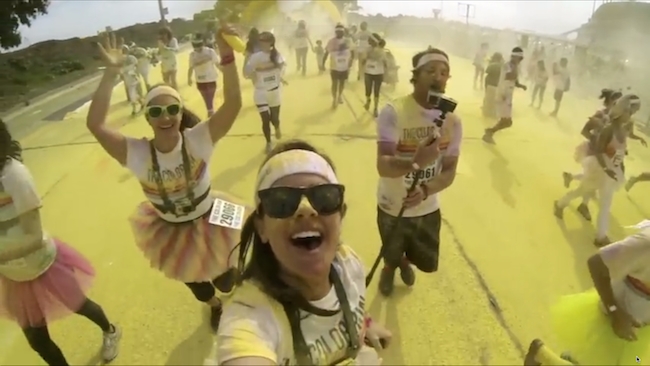 You've got to search for the hero inside yourself. A new internal video, GoPro Our Story, provides a good jumping off point to assess exactly what it is that make GoPro so dominant when it comes to POV.
If we go back a few years there were a few companies making cheap POV cameras. The quality from them wasn't very good, but they did enable sports enthusiasts to capture their experiences first hand even if it looked extremely poor.
In 2001 a new stills camera system was released. Called the GoPro, this wrist mountable waterproof film camera enabled action shots to be taken in places that most cameras could not venture. Its defining selling point was its unique pivot action mount that allowed the camera to be held up to the eye without taking it off the wrist.
Devised by a man by the name of Nicholas Woodman when he was still in his mid 20s, the camera went on to generate around $350,000 per year. When we look at GoPro now it all seems like everything happened like clockwork. However Woodman hadn't had things easy. He had been involved in numerous failed ventures, including a video games company, and it took him a good four years to bring the original GoPro stills camera system to market.
Fast forward a few years and the company went on to develop the standard definition GoPro Hero, and that's when things started to become interesting. Woodman realised that this tiny, versatile camera could empower people in a way that previous video cameras simply couldn't match. In 2009 the company released the world's first full high definition POV camera and the rest, as they say, is history. In other words things became extremely interesting.
Within a year of the HD Hero's release the company had generated $64 million. Now in its fourth HD incarnation in the form of the Hero3+ the camera is used worldwide by amateurs and professionals alike.
Importantly GoPro has become a brand that is synonymous with action cameras. So much so that I have often heard the GoPro name being mentioned even when alternative makes are being referred to.
Other manufacturers of action cameras have struggled to compete with the GoPro machine. Even Sony with its respectable AS15, AS30, and now AS100V cameras have so far failed to steal its thunder. There is a very good reason for this, and it lies in how GoPro perceives and markets itself.
A media company that makes cameras
While rival manufacturers simply class themselves as electronic gadget producers, GoPro on the other hand considers itself to be a media company that happens to make cameras.
Recently GoPro produced an internal video, which sheds a lot of light on its philosophies, and it makes for very interesting viewing. Strategies such as the monetisation of GoPro footage regardless of whether the viewer already owns a GoPro, or even if they have no intention of buying one, factor among their outlook. GoPro came to the realisation that branding, awareness, and embedding itself in the psyche of those who watch the footage is everything. As any retailer who sells GoPro cameras knows, the way its products are displayed and sold is very tightly controlled to almost Apple-like standards.
You only have to look at the number of videos by everyday people who still insert the GoPro logo hit at the beginning of their footage to see the type of brand loyalty that is present. Many owners of GoPros wish to shout about the fact that their footage was taken with this camera. This is a phenomenon that is fairly unique to GoPro even though rivals have been making half-baked attempts at copying the strategy.
Far from simply presenting average POV shots in its marketing, the GoPro guys are creative, showing some extremely aspirational imagery from all over the world in their promotional videos; everything from exotic locations and amazing light, through to the creativity of angles and the subject matter. The promotional videos alone are motivational to want to take the camera out and use it.
This is an important aspect that many other manufacturers have completely forgotten about, and it is crucial in explaining why they have failed to truly compete with GoPro. In simple terms they fail to inspire and motivate from an aspirational perspective.
As anyone who has followed Marketing 101 knows, people buy into products with emotion. While Sony, Contour, and most of the other action camera manufacturers offer specs and features, GoPro on the other hand offers a lifestyle, the feeling of being part of a community, and the idea that GoPro itself is actually interested in what you shoot with their cameras.
Now, we can argue about realities until the cows come home, but the fact is that GoPro markets itself on far more than the gadgets that it sells. It is an abject lesson for its rivals that nearly five years on they still haven't learnt from.
Despite going public this year and its owner now being valued at well over $2bn, GoPro still retains the air of an outsider and a small independent. This is another factor that is crucial in the adventure sports world. GoPro are not the masters of deception, but instead the masters of perception.
Of course there is also a practical reality to the order. The latest incarnation of the GoPro Hero camera is by far the most capable of all the action cameras on the market. Nothing else touches it with its comparatively high bitrate recording and Protune modes, which use a Log gamma for maximum grading potential., an offshoot from the purchase of Cineform in 2011. The sheer number of innovative mounts are reason alone why sports enthusiasts and professionals alike, including myself, use the camera extensively.
Critics would say that it has a monopoly and that the firmware usually always suffers teething issues. They will also make a point of mentioning the battery life on the newest cameras as being less than satisfactory.
Some of these complaints have value, others don't. On the issue of battery power the newest Sony AS100V doesn't fair much better, and unlike the GoPro it doesn't have the option of attaching an extra battery pack for an additional 2hrs recording time.
Firmware has had its issues, but sometimes the criticism is wrongly aimed. For example, many recording issues on the original Hero3 Black Edition were down to manufacturing issues with the recommended cards from San Disk. The sheer number of fake cards on the market didn't really help either.
One thing is certain, GoPro is here to stay and the innovation will continue. Something that is also certain is that as the company becomes bigger and bigger there will always be those who rail against it and buy one of the alternatives to be different. Which is a good thing because it will keep it on its toes.
For those who want to know more about where GoPro came from, and where it is heading, the following video, makes for very interesting watching.
Tags: Business