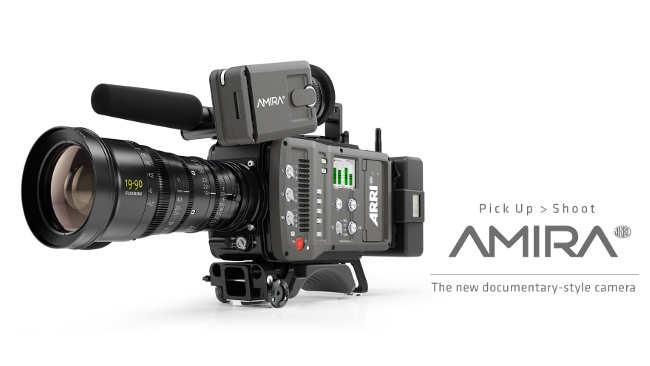 There has been a lot of excitement about Arri's new Amira camera, (featuring an Alexa sensor in something closer to a traditional ENG form factor) not least because it would appear that it could be very useful outside of its intended documentary context and it has been expected to have a much lower price tag than the Arri Alexa
Well now actual pricing has emerged for the Amira "documentary-style" camera and there are a few surprises! The main one being that Arri are selling the camera with 3 different levels of software and that this software seems to be the main way of differentiating the pricing rather than hardware:
AMIRA Camera Set - Most Economical: €25,980
AMIRA Camera Set with Advanced License - The Allrounder: €28,980
AMIRA Camera Set with Premium License - Everything included: €32,980
The most basic Amira option only allows for Rec 709 ProRes 422 recording at up to 100fps. The price for this option is €25,980 (or $39,999 U.S.) but for a further €3,000 you can get what Arri are calling the "Advanced License" which includes Log C, ProRes 422 (HQ) , 200 fps and in-camera grading. Obviously the Log C has always been VERY popular on the Alexa so it is hard to imagine that most people won't plump for the "Advanced License" for such a small amount more.
A basic necessity
I think a lot of people will consider Log C as a basic necessity for an Alexa style camera but having said that, it would appear that you will be able to buy the various licenses after you have bought the camera, and if it costs the same €3,000 euro at a later date then it is possible some people may get the most basic option to start with and upgrade as soon as they feel they absolutely have to have Log C for a project.
The third software level which Arri are calling the "Premium License" includes ProRes 4444 and 2K recording (up to 200 fps again), as well as custom 3D LUTs. As I understand it, this gives you something getting close to Alexa functionality, so could be a great option for using the Amira alongside Alexa cameras. This costs an extra €4,000 over the "Advanced License" however, so I can imagine that a lot of productions might put it off because it's just not as compelling a case.
For example 2K isn't that big a jump up from 1080p, so that feature isn't even that exciting in the context of cinema release and in a television context 1080p is probably going to be preferable over 2K anyway. Obviously the full 4:4:4 colour subsampling of ProRes 4444 has a lot going for it in the context of chroma keying, but then unless you are doing a lot of intensive keying I can imagine that ProRes 422(HQ) might be considered "good enough". It does also bring 12bit sample depth to the table, but the 10bit sample depth of ProRes 422 might be exciting enough already for those smaller productions used to having to make do with 8bit cameras. That leaves the custom 3D LUTs, and here there is obviously a much more compelling argument for spending that extra €4,000 over the "Advanced License" but I suspect that people will explore other ways of working to avoid that extra expense.
Middle option
So in summary, I think a lot of people are going to plump for the middle option at €28,980 as it gets you close to an Alexa way of working while saving a little over the top end "Premium License". Obviously some people are going to go for the cheap option at €25,980 and I can see this might work for some people (perhaps those people actually shooting documentaries with the camera!). However I expect this camera is going to be mostly a rental item and rental houses are probably just going to want to have the full "Premium License".
Once you have chosen your software options you go on to choose lens mount, battery mount and bottom mount, to get a complete camera. It's interesting to see camera companies moving to sell camera models by software rather than hardware. It makes sense as it means the customer can just upgrade the software without having to buy a new camera body just to get the software features inside it and companies don't have to create new casings and hardware just to sell new software features. It's probably a whole lot better for the environment too.
Update: ARRI has just confirmed that you can rent the upgrades if you want to. This is definitely set to become a trend. Here's what ARRI's David Green just told us:
"There are 3 versions: The AMIRA , AMIRA advanced and AMIRA Premium . The difference is in functionality controlled by software and all models are upgradable by either a one off licence fee or by a weekly licence. The idea is that a camera used for TV work requiring only 4:2:2 Rec 709 can be purchased at an entry point of €25,980, and if down the road the camera is required to shoot 200pfs at 2K 444 12 bit log C the client can either upgrade the licence as a one off cost or pay a weekly fee."
Whichever way you look at it, this is a very important camera!

Press release after the break:
FOR IMMEDIATE RELEASE

ARRI NOW TAKING AMIRA ORDERS, PRICES START AT $39,999.00

(January 30th 2014) -ARRI announces today that pricing has been set for its new documentary-style camera, AMIRA. Orders are now being taken. Prices for the camera with viewfinder start at $39,999.00 and customers can choose from a wide range of feature and accessory options to build their ideal package.

Flexibility of configuration is the key to ARRI's pricing structure. Temporary and permanent software upgrades allow owners to adapt AMIRA according to the changing professional needs of their evolving careers, extending the return on their investment.

AMIRA is a versatile camera that combines exceptional image quality and affordable CFast 2.0 workflows with an ergonomic design optimized for the shoulder-mounted lone operating typical of 'run and gun' documentaries. Ready to pick up and shoot straight out of the camera bag, AMIRA is rugged enough to take anywhere and suits a wide range of different production types and shooting environments.

There are three camera configurations to choose from, differentiated by their software feature-sets. Customers then select a lens mount, battery mount and bottom plate to assemble a complete camera; these are configured separately because there are various options for each. Whichever AMIRA camera set is initially chosen, it can be upgraded with additional functionality by purchasing a license at the ARRI website.

The entry-point AMIRA camera set allows Rec 709 ProRes 422 recording up to 100 fps and might suit owner-operators working mainly in the corporate, online and television markets. Next is the advanced set, a true 'all-rounder' configuration that adds features such as Log C, ProRes 422 (HQ) at 200 fps, in-camera grading and a pre-record function, among others. The premium set incorporates features for high-end productions perhaps using AMIRA as a companion to ALEXA, including ProRes 4444 and 2K up to 200 fps, as well as limitless color control on set and in post with custom 3D LUTs.

Full pricing details are available through ARRI and its official sales channels. Delivery of AMIRA cameras is due to start early in Q2, 2014.

For more information please contact: amira@arri.com