AMD has announced four models of Ryzen Threadripper Pro Processors that will be used in Workstations by OEMs such as Lenovo.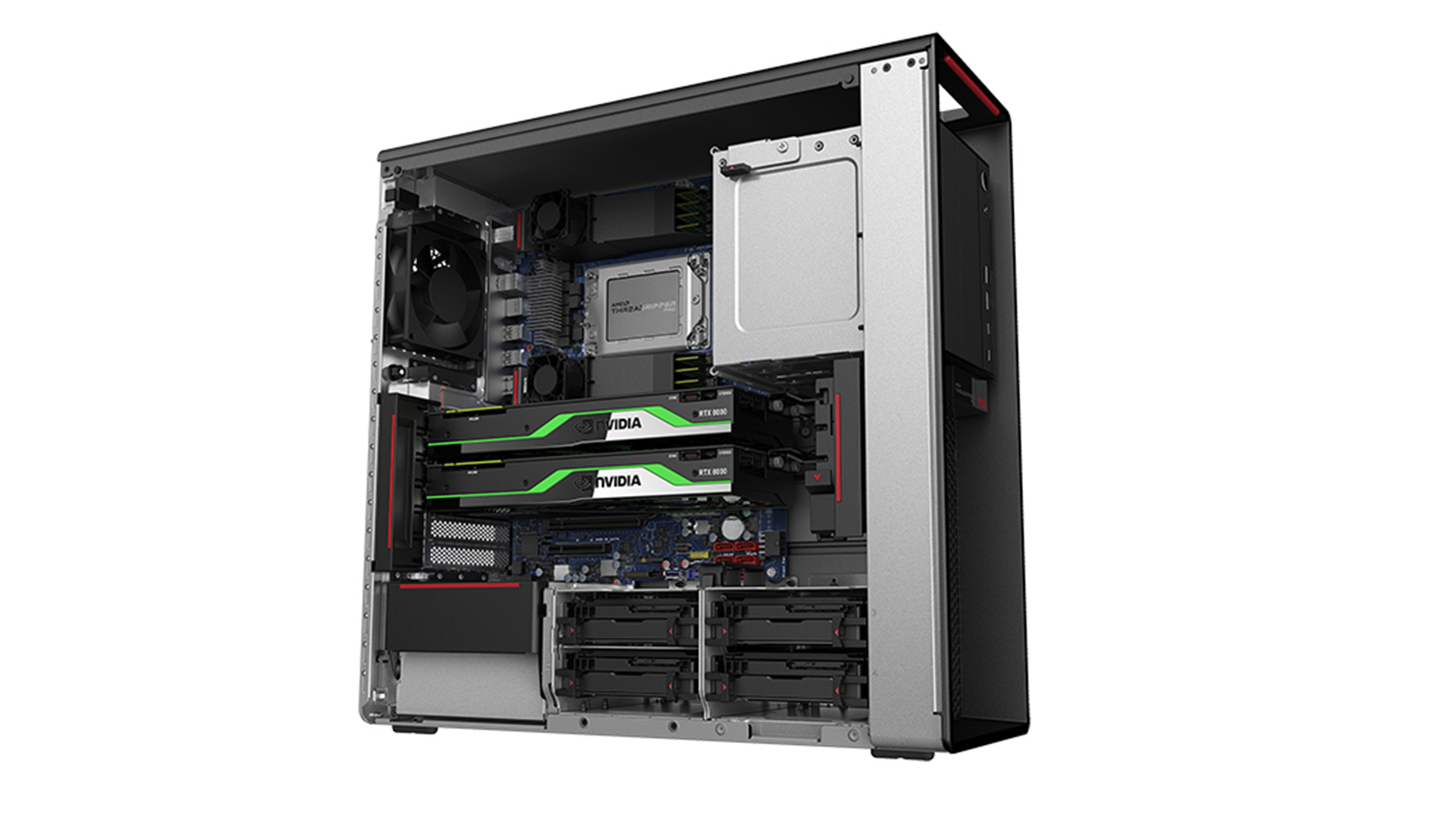 The four new models of Threadripper Pro share a number of features with single-socket EPYC 7001 parts, including support for 8-channels of DDR4-3200 memory which means that AMD now offers a better set of Workstation features than Intel Xeon can muster.
In theory Threadripper Pro supports up to 2TB of ECC memory which is half the 4TB you get with EPYC. On the other hand 'up to 2TB' sounds massive compared to the 512GB of quad-channel you get with Non-Pro Threadripper. In practice you are likely to be looking at 64GB, 128GB or 256GB RAM in your new Threadripper Pro Workstation as we expect that systems will only use one DIMM per channel.
AMD's full range of Zen 2 CPUs from Ryzen Desktop to EPYC Server supports PCI Express Gen 4 and these new Threadripper Pro double the number of lanes from 64 in regular Threadripper to 128 lanes with Pro.
Many people have been happy to build their own pseudo-Workstation using the Non-Pro Threadripper as these CPUs have stacks of grunt with which to edit videos and perform renders, however that hasn't been sufficient for OEMs such as Dell, Lenovo and Supermicro. These companies know their customers require the management features offered by Intel vPro and AMD has added similar features with Threadripper Pro.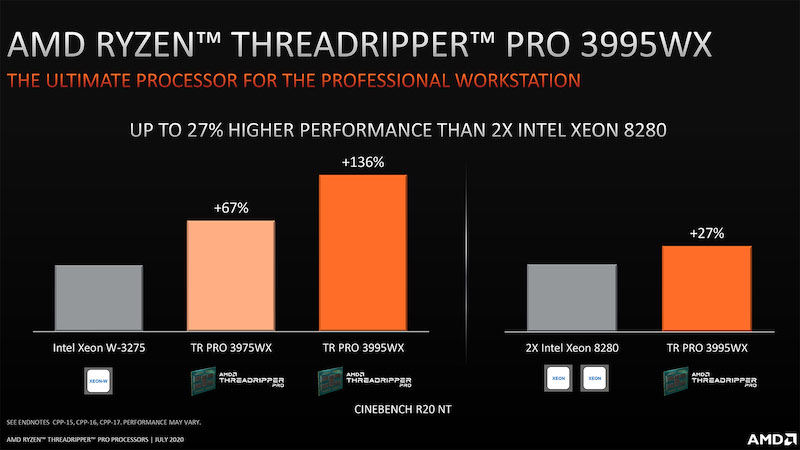 It might help to clarify that point slightly. AMD removed the Server/Workstation management features from Threadripper as that platform is described as HEDT (High End Desktop) so until now the correct approach has been to use junior 7001 EPYC chips in Workstations. HEDT does not requirement management and therefore Threadripper missed out.
The launch of Threadripper Pro clears up the confusion as AMD now has distinct platforms for Desktop, High End Desktop, Workstation and Server. Threadripper Pro also uses AMD Pro Security which encrypts data in memory on the fly. This sounds very useful for Workstation customers and certainly asks some questions of Intel Xeon.
The fascinating thing is that AMD has not simply taken the existing 24, 32 and 64 core Threadrippers and brought out 8-channel Pro versions but has instead launched 12, 16, 32 and 64 core models of Threadripper Pro. All four models support up to 2TB of DDR4, have 128 lanes of PCIe 4 and a 280W TDP. Total cache is dictated by the number of cores so the 12-core Pro 3945WX has 70MB while the 64-core Pro 3995WX has 288MB. On the other hand, the lower core count models suffer less from heat and as a result are able to run at higher clock speeds.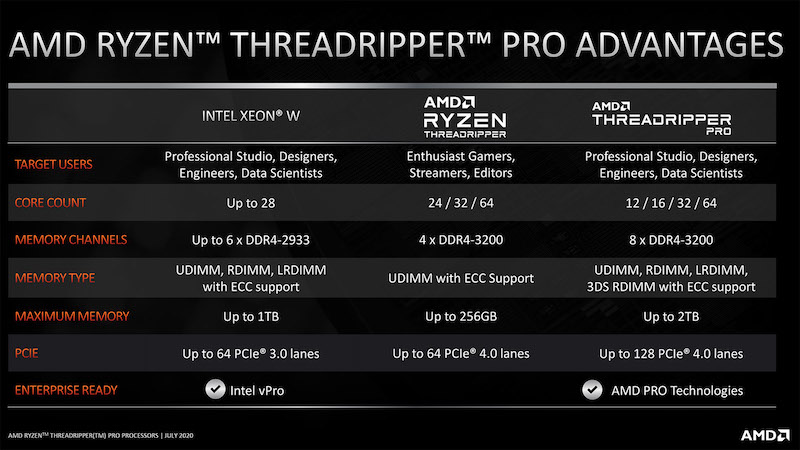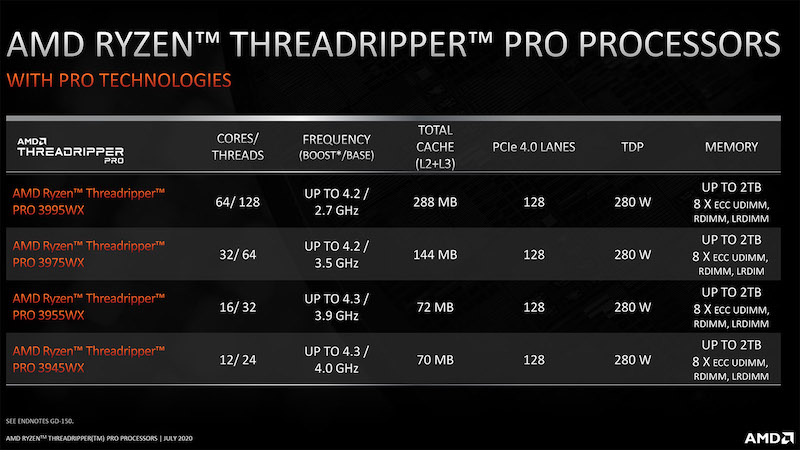 We have no idea about pricing of either the CPU or the supporting chipset/motherboard as these parts are not available in retail and will only be sold to OEMs. In the first instance we expect to see Lenovo selling their ThinkStation P620 in October with prices starting at US$4,599. The specification of that version of P620 looks very lightweight and we would not be the least surprised if pricing follows Apple Mac Pro where a high end model can hit US$25k.
As a closing thought, ThinkStation P620 supports up to two Nvidia Quadro RTX 8000 graphics cards or up to four Quadro RTX 4000 graphics cards which use a PCI Express 3.0 interface.
Nvidia is expected to release its Ampere GPU in September and it would be shocking if this chip did not support PCI Express Gen 4. It seems only logical that Lenovo will update P620 to support Ampere graphics and that will surely give AMD Threadripper Pro a handy boost.