The budget and production quality for Apple's Virtual Events keeps soaring, here featuring a movie-quality Mission Impossible gag, and the products themselves impressed as Apple's M1 transition continues in style.
The first wave products in Apple's transition away from Intel to its own Apple Silicon M1 chips delivered stellar advances in performance and energy efficiency. According to Tim Cook, already 50% of sales are M1 Macs. So while not all applications are M1 optimised yet, and some plug-ins may never be ported, the forward momentum is there.
The first wave MacBook Air, 13-inch MacBook Pro and Mac mini swapped out the internals but largely retained the previous chassis designs. The second wave products retain M1's performance gains, but add more excitement with an all-new iMac design and an M1-equipped iPad Pro with impressive new features including 5G and a 1,000 nits HDR screen.
M1 iMac (not Pro)
An iMac that looks like a scaled up iPad Pro on a aluminium base has been rumoured since 2020, but doubts had arisen over whether it might wait for an M1X or M2 chip with higher performance. In the event, Apple kept to the iMac's heritage with an ultra-slim design made possible with mobile parts.
That said, when the mobile part in question is the M1 chip, there's still plenty of performance to play with - Final Cut Pro offering smooth editing of up to 5x 4K streams or a single 8K stream. Apple claim up to 85% faster CPU performance and twice the graphics performance of the previous Intel based i5 iMac.

Image: Apple.
The new iMac might be just 11.5mm thick, but there's a dual-fan active cooling system which should provide a significant sustained performance boost compared to fan-less iPad Pro and MacBook Air, while a far large surface area for heat dissipation should also compare favourably to the MacBook Pro. The cooling system is also tuned to a virtually imperceptible 10db.
As you'd expect of iMac, the 4.5K Retina screen dominates the design with a P3 wide colour gamut and 500 nits of brightness, plus an anti-reflective coating.
One of the few complaints on the M1 MacBooks was the 720p cameras - fully rectified here with 1080p FaceTime HD cameras enhanced by the M1's advanced image processing. Alongside the camera, there's a 'studio-quality' three-mic array designed to reduce feedback and beamforming to cut out background noise. There's also two pairs of force-cancelling woofers and a high performance tweeter which promises serious audio quality - including spatial audio when playing movies with Dolby Atomos.
Sadly, the cameras don't support Face ID, but new colour matched keyboards include a model with Touch ID built-in. Another nice touch is that the power supply is magnetically attached and the modestly sized charging brick includes an option for plugging in Gigabit Ethernet.

Image: Apple.
There are seven vivid colours, but just one screen size - a 24-inch display replacing the 21-inch in the previous entry-level model. The Intel-based 27-inch model remains in the product line, so we can expect a more performant model will arrive in due time. The iMac Pro is discontinued however, suggesting Apple's Mac Pro is expected to fully cover the high end whenever it appears.
The 2021 iMacs start at £1,249 and that entry-level machine uses a similar 7-core GPU to the entry-level MacBook Air. There's just four colours - green, pink, blue and silver - with two USB-4 / Thunderbolt ports. As supplied, the Magic Keyboard lacks Touch ID and there's no Ethernet on the power pack - but these are options. (In fact, the Magic Keyboard with Touch ID is compatible with all M1 Macs such as the Mac mini.) Base storage is 256GB, but configurable to 512GB and 1TB.

The new Magic Keyboard. Image: Apple.
The next step up is the £1449 model which comes with an two additional USB-3 ports, Gigabit Ethernet, Touch ID keyboard, an 8-core GPU plus an additional three colours to choose from. This version is also available with 512GB storage at £1649, but is configurable to 1-2TB.
All models come with 8GB of unified memory, but can be configured to 16GB. There's been some online scare stories about SSD wear with 8GB M1 models due to excessive memory swapping, which while apparently overblown are a useful reminder there's no practical way to upgrade RAM or storage after purchase.
Pre-orders start on April 30th with first deliveries in the second half of May.
iPad Pro XDR
Now that the iPad Air has largely stolen its chassis design, and the M1 Macs have surpassed the high performance/energy efficiency of its A-Series SoC, what's the point of the iPad Pro?
Part of that answer must be with iOS 15 and WWDC21 in June. After big advances in iOS 13, last year saw iPad OS in a holding pattern with a few new features, such as Scribble, and a very limited implementation of widgets compared to a stellar showing on iPhone. Better support for multiple displays and multi-tasking are high on the hit list and it's intriguing that 2021 models come with 8GB RAM as standard, with 16GB for 1TB and 2TB models. This compares to 4GB for 2018 iPad Pro (except 1 TB model) and 6GB in 2021.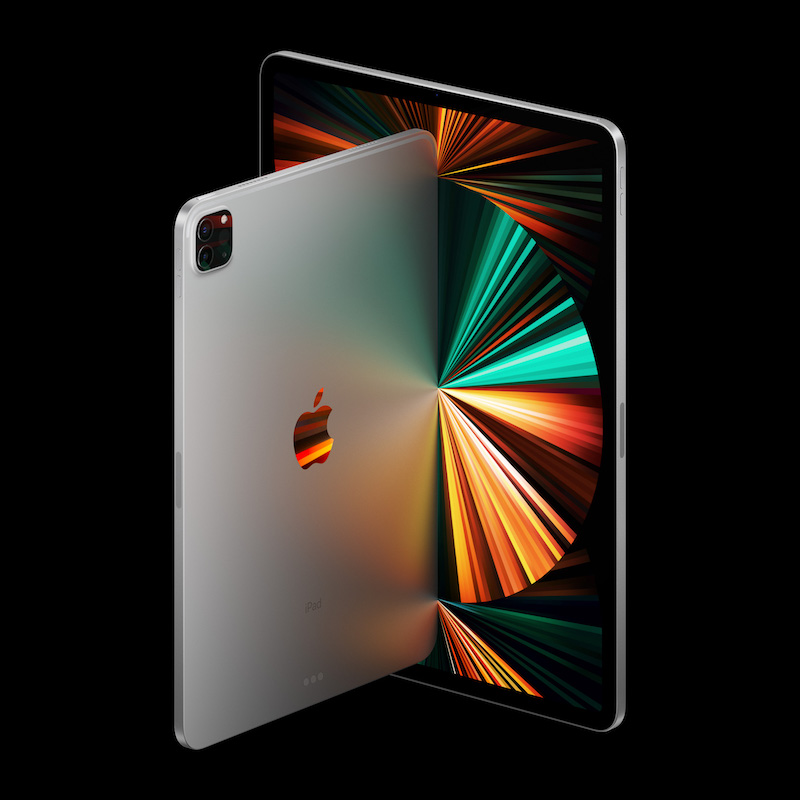 But while we await iPadOS 15, in the here and now Apple chose to close the show with the iPad Pro's due to some impressive innovation.
The iPad is all about that screen and on the 12.9-inch model Apple are introducing mini-LED with some wild specifications : 1,000 nits max brightness with 1,600 nits peak brightness (HDR) plus a million to one contrast ratio. By way of comparison, the 11-inch model offers 600 nits just like the 2020 models. Apple calls the 12.9-inch display a Liquid Retina XDR display, putting it in the same marketing territory as its £4.5k Pro Display XDR which also offers a million to one contrast, but 1,600 nits brightness at the price of a pair of fans, a heat sink rear chassis plus a cabled power supply.
Apple is delivering this million-to-one contrast ratio in a 6.4 mm chassis with all-day battery life thanks to mini-LEDs, 10,000 of them compared to 72 in the previous iPad, plus 2,500 local dimming zones. Technically, it's not as pure an implementation as OLED, but it avoids burn-in.
Driving the screen will be the same M1 chip as the high-end iMac and MacBook - the full-spec 8-core CPU, 8-core GPU paired with 8/16GB of RAM. This offers up to 50% faster CPU performance than the previous model and 40% better graphics performance.
This is where we circle back to iOS 15. Using the same processor and lower pricing, a Mac mini can run Final Cut Pro, Da Vinci Resolve or Adobe Premiere at blazing speed and no compromises. For the 2021 iPad Pro launch, we got a blizzard of developers talking about being blown away by its sheer power but no killer apps.

Image: Apple.
Adobe made an appearance to talk about PhotoShop and Lightroom which are slowly inching closer to desktop capability. We had an innovative tennis coaching app making use of the iPad's cameras and processing power. We had another ARKit-based app fusing 3D architecture models in real-time with the environment, including dynamically integrating people moving across frame (making use of the iPad Pro's LIDAR sensor). Then we had LumaFusion which is a stunning pro-oriented iOS NLE which completely blows away iMovie… but isn't FCP.
Back on the hardware side we got an upgrade of the USB-C port to Thunderbolt / USB-4 standard with four times the bandwidth of up to 40Gbps, allowing for faster external storage and the ability to drive a Pro Display XDR at 6K. The rear-facing cameras are unchanged, but the front facing camera goes from 7MP to 12MP and a new Ultra Wide lens supports a cool new feature called Centre Stage that dynamically alters the framing of video streaming to follow you as you move around and can even track a second individual, zooming out to keep you both in view.
Pricing starts at £749 for the 11-inch model and £999 for the 12.9-inch with 128GB of storage at entry level configurable up to 2TB. Adding 5G cellular capability adds £150 but US carriers are already offering discounts if you go on contract. The 12.9-inch model is 0.5 mm thicker than last year and very slightly heavier, but still compatible with the Magic Keyboard - which now comes in white as well as black, but still the same less than robust cover material.
Other news
Also announced was an upgraded Apple TV 4K starting at £169 which included reference to 'console quality' graphics but with an A12 chip it's clearly not a PS5, but does mean better support for higher frame rates for HDR content and HDMI 2.1. There's also a redesigned remote that actually makes the buttons easy to differentiate with a nice jog-wheel function on the directional pad. Also new is the ability to colour correct your TV with an iPhone (this feature also works on some older Apple TV's). AirTags help you find lost keys etc at £29 for 1, £99 for 4 and make good use of new U1 chip for extra precision. There's also a new Apple Podcast App and support for paid subscriptions. Apple have also added a 10 Gigabit option to the Mac mini for £100 to match the iMac's capability here.
Conclusion
Apple's M1 2-3 year M1 transition hasn't fully completed its first year, but the 2021 24-inch iMacs look like a winning if expensive second step while the refreshed iPad Pro's throw down the gauntlet for iPadOS 15 and Apple to bring across its own pro apps. We're keen to see a M2 or M1X that's more pro-oriented with even higher performance, plus support for more displays and ports.
Tags: Technology News